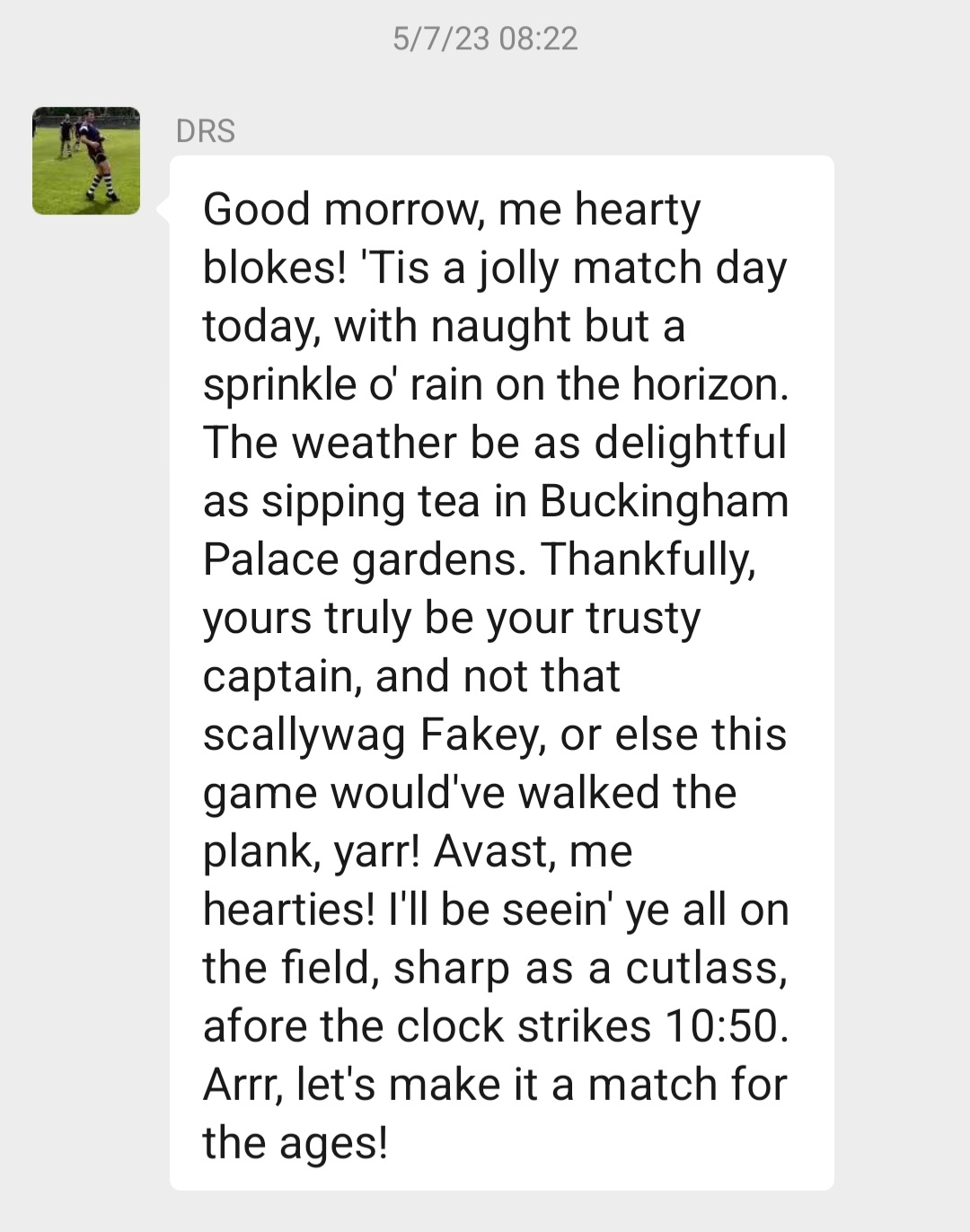 Was it Talk Like a Pirate Day? No, that is in September. Whatever the motivation, the skipper inspired an unusually punctual and cheerful team to arrive and the rain did stay away. It was an unseasonably pleasant temperature too and everyone seemed in a good mood – Omega even managed to get to the ground without abusing the Didi driver for the first time this year.

The field was looking notably greener than previous games and despite a bit of mud underfoot the outfield wasn't too slow. DRS lost the toss and we were inserted, Half Nelson and Omega with first honours.
Omega hooked a shoulder high full toss for five but was caught with the score on 22. Half Nelson was bowled around his legs one run later, having played some nice shots to fielders in his first bat for a long time.

Fiddy and DRS both looked good against the pace but perished to the spinners without troubling the boundary, while Cracker got away to a flyer, playing some punishing cuts and drives through the offside. Korean joined him and managed to put a couple of rank balls away down leg . They got the score to 80 before Cracker was stumped in the 15th over. Titsy Fiddler departed in the next over having joined the illustrious debut duck club, and Korean was caught a couple of balls later.
This left a ball short of four overs for Paps and Soapy to get to a competitive score, and they managed 37 runs, 29 of them to Soapy who hit the only six of the innings, taking the total to 122.A satisfactory total. Not great but defendable with a bit of fight and luck.
Paps started dot wide dot wide but was generally tidy and got both openers with a chop on and a top edge comfortably taken by Titsy at square leg.

Fiddy found his fuller lengths and he might be getting frustrated at his third none-fer, and at the number of edgy shots that avoided fielders, but he contributed with a great throw for a run-out.

Rooty was also frustrated not to pick up the ball early enough at mid on to get to a catch (claiming that the substantial girth of the non striker blocked his view) and was further frustrated that his first few balls landed closer to him than the batsman, but he found a better length and got a wicket caught by a back-pedalling Korean with the gloves.

DRS got a wicket with an attempted bouncer that got up to waist height and was top edged to Korean. In his next over he was on fire and gave Biplove a real working over, hitting him in the box then producing a beauty for lbw which pitched on leg and would have hit middle and leg.

Omega used the wind to his advantage for 2 tidy overs
Birdie mixed dangerous straight balls with some more forgettable ones.

Some were surprised when Titsy was thrown the ball with the game on the line, but he sidestepped to the crease in a genuinely impressive start with the ball, and coaxed two good LBWs out of the umpire – one plumb on middle, the other pitching just in line and heading for leg.
Lobo had to retire on 30, and we had claimed 8 wickets so it came down to us needing to claim the final wicket while the Devils needed to score 11 runs, with balls remaining not really an issue. Unfortunately they managed the task fairly uneventfully as they found space a few times and Bashers went down by one wicket.

It was about as pleasant as a loss gets. It wasn't too hot and the rain stayed away. Nobody dropped a catch and misfields were rare. Nobody abused the umpire or had a run in with the opposition.  Even the wides were mostly within Korean's reach without a dive. We had a real chance to win with the last man in, and nobody choked on our side, but nor did their last pair.