For the first game of the new season, Business played the Hotdogs on the new near pitch at the Rugby Camp. The game began at 2:20 in reasonable conditions for early April. It was great to welcome back Revelations (Basher No.343) and Iforgot (Basher No.347) after an absence of a couple of years. Fiddy Cent and Traction were making their debuts for Business, having earlier played their first game for Leisure.
Soapy wisely chose to insert the opposition and the Business bowling attack was shortly performing like Cruella de Vil in 101 Dalmatians: our canine opponents were on the hop and there was little or no possibility of RSPCA intervention. On the sidelines, Korean was licking his lips, muttering about talk of a BBQ and something about XCXCXC.
Suka took a couple of wickets, one with a ball that was pretty much unplayable, pitching on leg and hitting off. Even DRS had to nod his head in appreciation. Next up was Bambi, who was smarting after rumours circulated about his having been widely backed in one category of Birdie's tipping competition. He took four wickets, one as the result of an excellent running catch by WarCry. The Yorkshireman conceded only 16 runs in his four overs.
Next up was Sensation, who – surprisingly – went around the wicket to deliver some old-fashioned West Indian pace attack. It was all too much for one Doggie batsman, who was clean bowled after Fiddy suggested a change of field.
Then the ball was thrown to Fiddy, who troubled the poochy batters with some rising deliveries sent down at pace. Traction was next into the attack, again showing his grip and control. Both Fiddy and Traction registered maidens and were extremely unlucky not to claim a wicket. Soapy affected an excellent run-out and WarCry came into the attack and had a batter caught behind by the skipper off one that bounced and moved away. Iforgot was next into the fray and bowled a couple of beautiful deliveries that might have taken the edge on another day.
In short, we had to chase 118.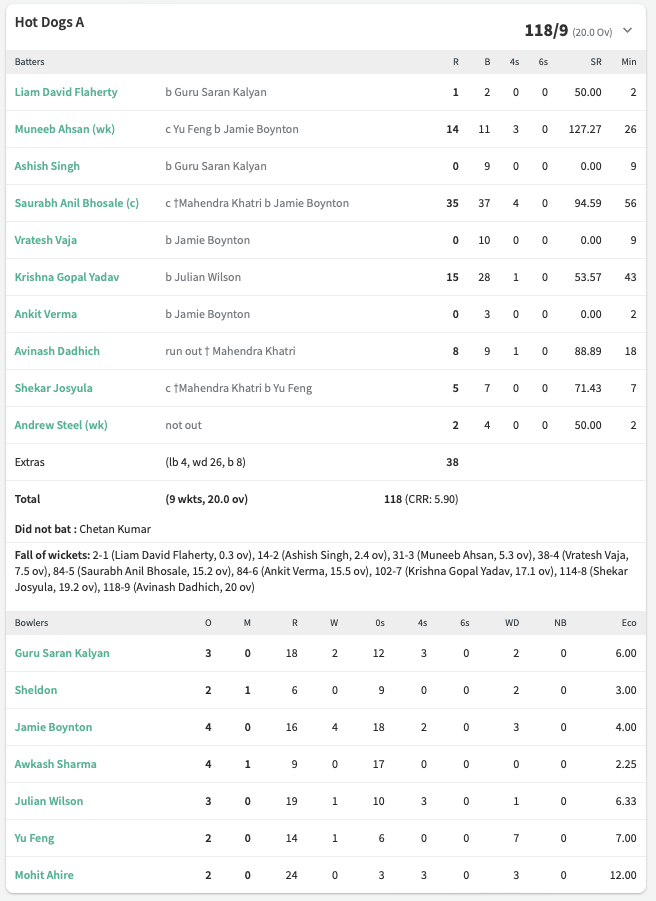 The Business innings did not get off to the best of starts. But, like Nelson at Trafalgar, we didn't let early reverses undermine our resolve. Luckily, Soapy was his slippery best and was soon knocking singles, cleanly picking them off his pristine pads and spraying the ball around. He was joined by Traction, who played beautifully for a 60 off only 46 deliveries, even throwing in some reverse hitting. Sensation was next in, and played very nicely for 16. Revelations and Suka finished off the run chase, the latter going out to bat in a coat.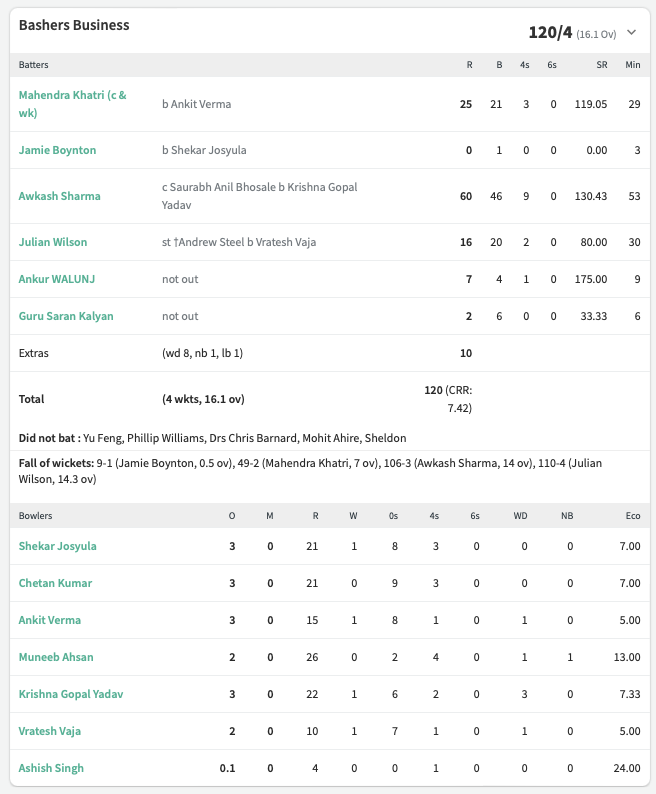 So a great start to the season, with the return of Revs and Iforgot and two new Bashers making their mark. The Hotdogs then generously invited us to their BBQ, although we had to leave for the bus back to Abbey Road.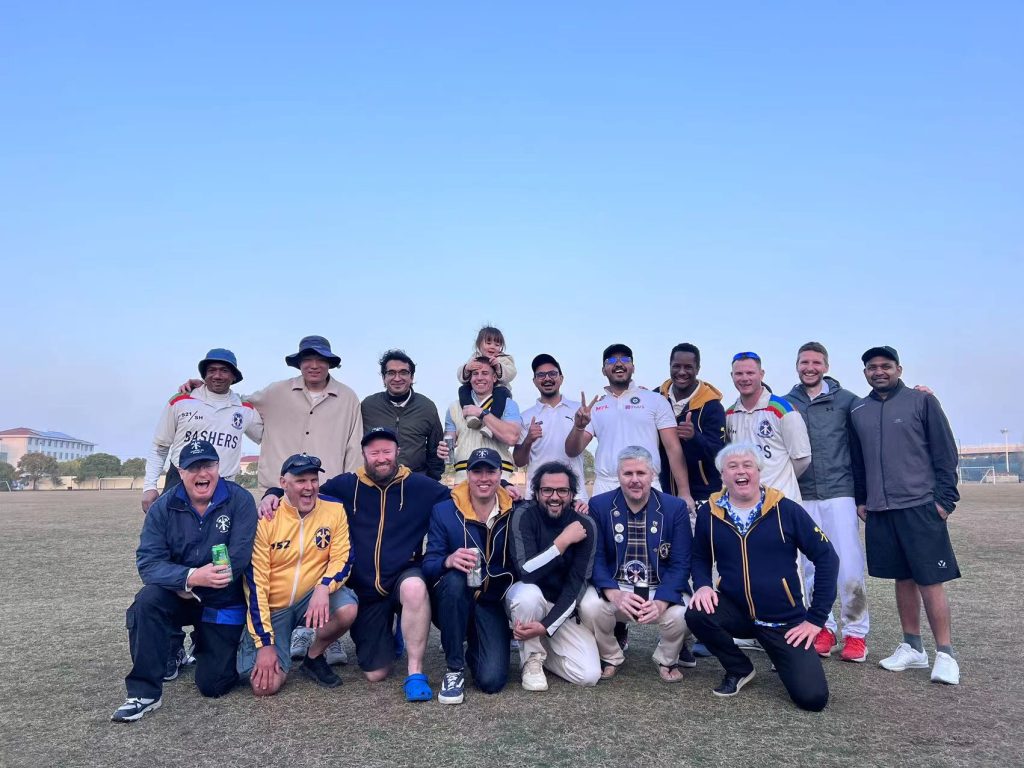 A great day for the Bashers.