Lumberjack #1 – Leisure Vs Hot Dogs 2nd April 2023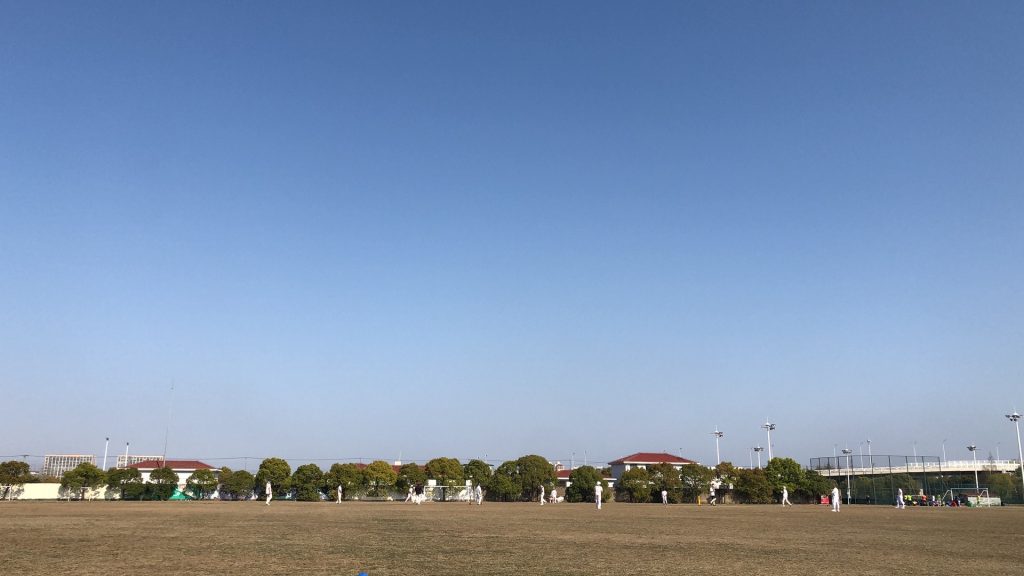 Shaking off months of anticipation, and some cloudy heads from Saturday tourist welcome drinks at Bamboo and Indian Kitchen, the Leisure team assembled at the SCSC from 10:45 am to a cloudy sky and the 8am game finishing 30 minutes early.

Kits retrieved – a casual stroll to the Marquee of Dreams to suit up and warm up.
DRS winning his first toss as Skipper and electing to Field, we took our fielding positions, and waited another 10 minutes for the Dogs to finally come out to bat.
Fling, new ball in hand, bowls his second ball off the pitch.Its called No Ball and the Umpire gives a Free Hit.
Omega throws his toys, knowing in 2020 the SCC made the rule "not a free hit". The ump is sticking to his guns.
13 Free Hits will be given to the dogs through the innings !

See Page 9 – http://shanghaicricket.com/wp-content/uploads/2018/07/SCC-League-Playing-Rules.pdf

Fling and Rooty, making his first appearance in Shanghai since 2021, share the new ball with Cracker using his hands ( and not his chest) to take the first wicket off Fling at the end of the 4th. ( 3 free hits in the over)

DRS inserts Fiddy for his Basher debut in the 5th, who immediately troubles the batters, but is unlucky to have one dropped. Omega on for the 6th gets one on the grass and another FH.
Fiddy has the first Bashers Maiden of the year ( tipping point 1 ) and Omega strikes twice in the 8th – Fling with a good catch at point, and a stumping from Korean marked down as run out by the awesome Umpire! ( FH # 2 )

Fiddy almost with a Bashers Maiden in the 9th and DRS replaces Omega and Fiddy takes his first catch second ball and is deadly with a return over the stumps for a run out last ball. Dirty Dogs 5/49 after 10.
Omega replaces Fiddy and leaks a few ( FH#3 and dropped catch ) , DRS's second goes for 5 and VI finishes his 4 with 2/30.

Fling returns and Birdy has a go in the 15th ( 2 FH ). 16th DRS takes a beauty off Fling and Birdy loses his radar in the 17th bowling 11 balls, the last a dot.
Rooty is back for the 18th and strikes with his 2nd ball, Fling with a nice catch at Long On.

DRS back for the 19th, takes a C & B with his first and Fiddy a tidy last over leaving the Dogs at 8/110.

A real Leisure effort in the field, some hard catches taken and some easy ones going to ground.
Case in point Sheldon named due to taking 2 and dropping 2 – 419 – Fiddy Percent

Few more words to the umpire about the choices he made, that he should take a long hard look at himself etc etc , Fisty, making his first appearance since 2019 and down from Beijing for the game – excellent Basher behavior – and DRS walk out to get the chase started.

It goes quite well for DRS , however if value for runs can be put into a monetary value then every run Fisty scored was worth the cost of his whole trip. After 1 run on his second ball, the first ball of 2nd over went to point and the long walk adding time and value to Fisty's time on the pitch.

A confident Cracker replaced Fisty, dispensing his first ball to the square leg boundary.
With a run a ball required for victory, DRS and the Prez kept things on track, milking singles to keep the rate on course, with the occasional boundary until the 12th when DRS bludgeoned 2 in a row, Leisure 67 / 1 after 12 and looking steady.
Unfortunately next over DRS holed out, scoring 19 off 32 and replaced by Korean who hooked one for 4 in the 15th.
81 / 2 and 31 off 32 required .
In the 17th Korean got castled, (10 off 18 balls) but 6 runs added.
Omega in and singles and a 2 for 6 runs from the 18th
Cracker then got bowled by one that he missed first ball of the 19th over. A confident 32 off 50 balls nearly seeing the chase through.
Fling comes in and gets off strike first ball, Omega gets a 2 and a 4 to cow corner – 7 from the 19th – 7 to tie and 8 to win from the last.
4 off the 1st 3 balls and Fling calls Omega through for suicide 2nd to the bowlers end but Omega well short and a handy 13 from 9 balls.
Sensei in to the bowlers end with 3 from 2 needed.
The 5th goes for 2 , All Tied.
1 ball, 1 run needed and the field is brought into a tight ring.

As Chetan Kumar, the bowler, approaches the crease, we all know what he will do, we think Sensie Knows what he will do. After he completes his action, and crosses the crease, Sensation is off. But he turns back and goes for the Mankad.
Outrageously, the Umpire is a law unto himself and the finger goes up.
After 3 minutes of arguing, yelling from the boundary, explaining the Rules, he holds his ground.
Sensei out for a Diamond Duck.
In walks Birdy – to the strikers end – while being directed to the other end.
After a nice little chat with Fling he takes his place and the bowler actually bowls it this time. There is no fooling BS. Fling connects and Birdy disappears in a blur as he launches down the pitch towards safety.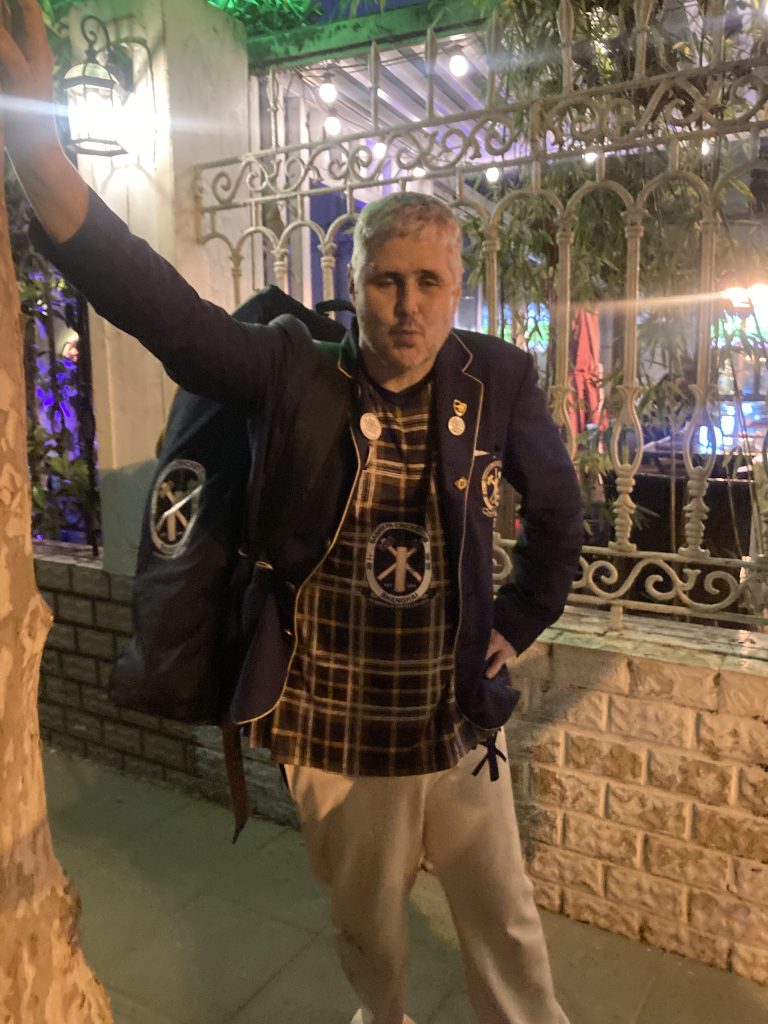 The ball has gone directly to mid off, collected and softly returned to the bowler.
In his excitement, his urgency and his utter incompetence, he fumbles it, tries to gather and fumbles that too, collects and swings at the stumps and misses as Fling's bat slides past the crease.
Leisure winners by 1 off last ball and Karma .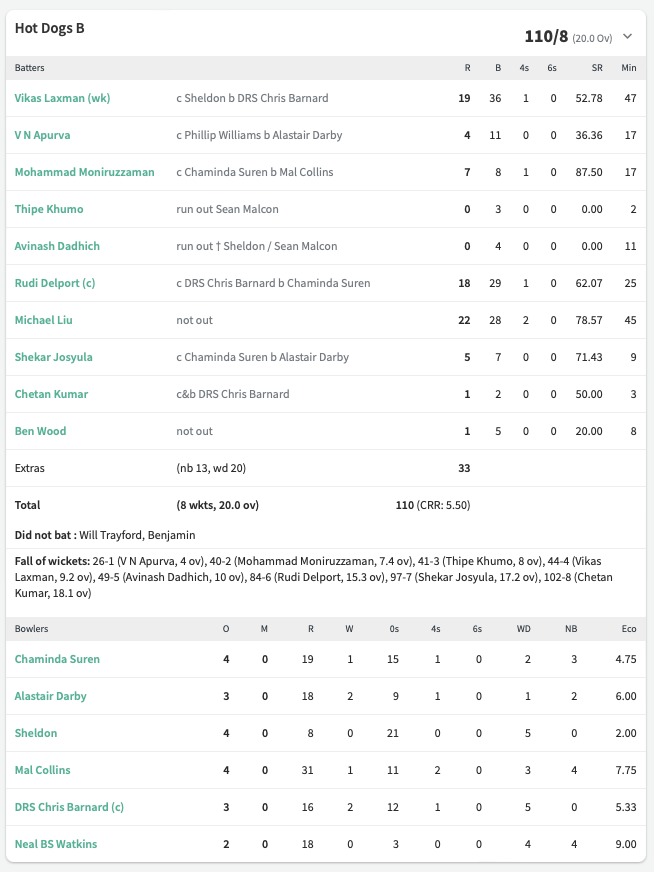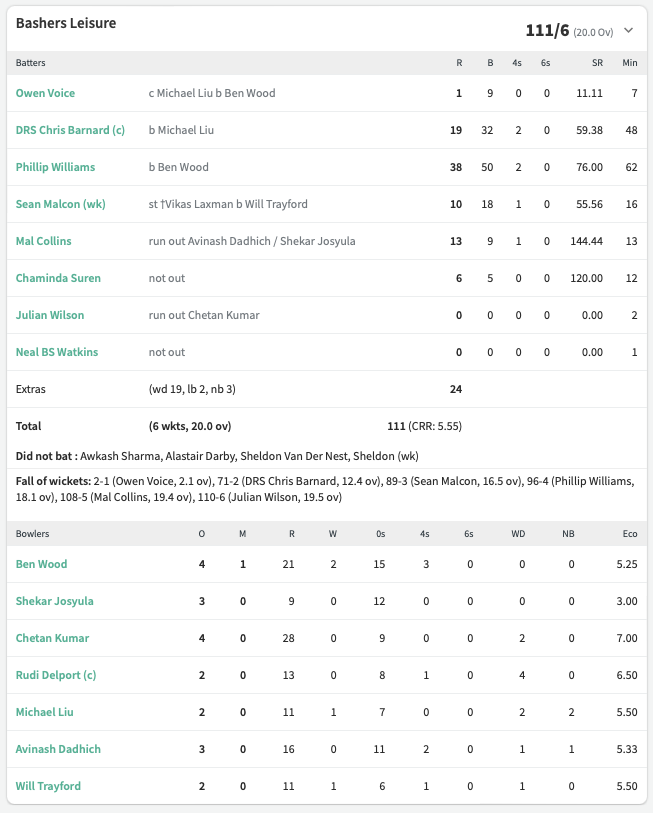 The Bashers on the boundary explode and run onto the field in celebration as the fielding Hot Dogs stand with head in hands shocked, while Birdy runs Cock a hoop riding his bat like a horse ( i may have imagined that ) all the way to his team mates as we all line up to shake hands.
What a start to 2023, it had everything that make a Bashers v Hot Dogs game special.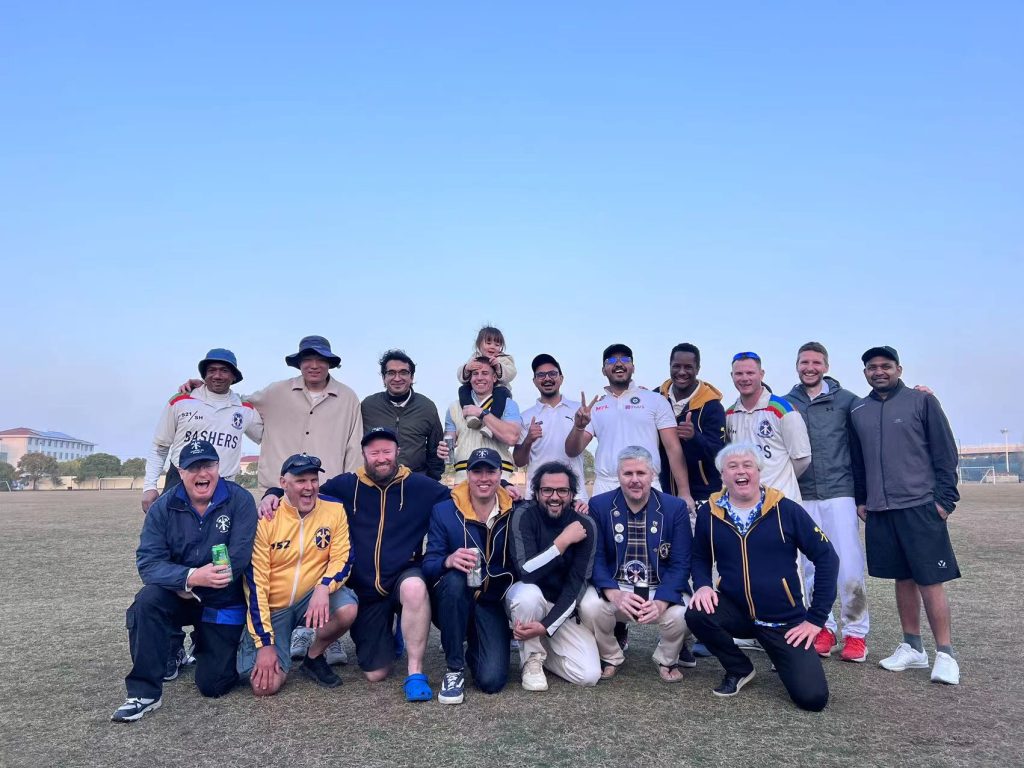 Post match drinks tasted very good, one could say they tasted like victory. They even improved while watching Business give the Dogs a rogering in their game.
Rather then drink the US Beer with no taste from the club, Rooty bought family mart out of Heineken and Asahi , many thanks.
Once things calmed down, a few dogs walked over beer in hand to congratulate us again, and later they arranged a BBQ which they generously fed our players on way to the bus after Business finished.

Im sure the Business Lumberjack will be forthcoming, but to start the year beating the Dogs twice in one day – Brilliant.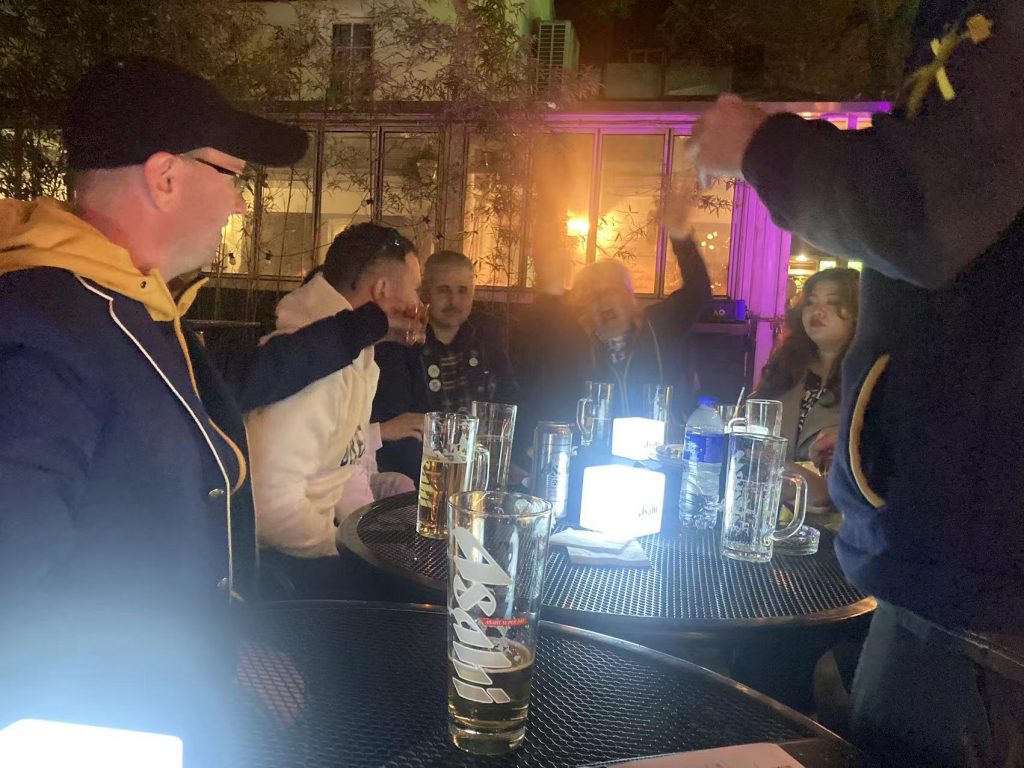 A thanks to the few spectators who came to add atmosphere, and welcome to Fiddy and Traction ( Business) who played their first games.