Friday 15 November by Omega
Manilla Sixes 2019
Lumberjack part 1 – Friday.
Paps, Bambi and Fakey get red eye flight and nothing interesting happens other than spotting a Skiddy impersonator.
Somewhere in Japan, Skiddy is being a Kunt and catches his flight Flights arrive in Manilla and Bashers to the hotel.
A session of invading personal space and spooning occurs. You don't wanna see the photos or video !
Birdshit, Fisty Bigballs and Omega arrive at checkin around 8:30 am for a civilized 10;50 departure while somewhere in Bangkok Cranky packs his Beige Blazer.
In Manilla, Rum is being purchased but Bambi is not buying Ginger Beer. Skiddy and Bambi are outkunting each other. BS tries his hardest to convince Bambi what Ginger Beer looks like to no result. At Pudong Stella draught is consumed and we board – Omega already broken seal.
TGFlight leaves at 11;45 and the world becomes peaceful for 2 hours while no messages received from Manilla.
The rum starts flowing at the pool and Skiddy comes out with ' Hold him down and Finger it '
Tank eventually arrives at hotel around 2 to find the bastards lost one room booking . Omegas .
They bugger off to Pollo Loco for lunch and Skiddy realizes he has lost 3,000 Pesos . Which we hear about ALL NIGHT
3pm Cranky boards – 3:15pm TGFlight arrives and we are greeted at baggage collection by a choir and band singing Xmas Carols .
4pm we get bags and look for taxi – once negotiated we head into the world of Manilla traffic. 20 minute ride we are told.
With time on his hands BS tells Bambi he is a Kunt for not buying ginger beer.
"Pollo Loco finished they head back to pool and have to behave because the families have arrived.
Meantime our taxi isn't moving.
Skiddy has gone from Kunt to Agro Kunt – as Bambi is extracting all the roid goodness from his rum.
Back in the taxi, we can see our hotel and for 45 minutes it doesn't seem to be getting any closer.
Eventually within walking distance we get out to do the final 200m and arrive at hotel at 5:55 pm. The pool crowd gets changed and we arrange to meet at 6:30 in Lobby.
Arguments over to blazer or not are decided – and sans Blazer a small reunion in lobby with Skiddy being Super Agro Kunt and bitching about his 3,000 Pesos.
6:45 we walk out of lobby as Cranky is on his way from airport. Walking into the night – Paps and Omega have their compass all wrong. So Skiddy stops to ask directions and we get a new companion for the next 45 minutes. Howzat Bar is chosen as it is where we had the 2018 first night drinks. A few of us have no recollection of this. Our Spruiker arranges a table and tries to make sense of the nonsense orders coming from our collective mouths.
Tank is not happy .
Spruiker explains he is persona no grata – no Visa for Philipines and can't return to USA . Also no job or money or home etc etc.
Bambi argues we should drink Rum, BS and I want a beer. 15 minutes of infighting and our girl finally takes our order – bucket of San Migs and bottle of Thanduay.
Tanks gets his beer and knocks it over.
Bambi and SFAK Skiddy fight over the pouring quality and Omega refuses to be treasurer.
Captain BS starts to loose his nut at the open defiance and everyone hands over their Pesos.
Omega again refuses them and with his back to an industrial fan , the term Raining Bucks is achieved as the pesos go flying across the table. Trying to collect the flying money, Tank knocks over another beer . Our Spruikers eyes light up and Tanks becomes treasurer by default and panics he is now in possession of a fistful of dollars.
Once its all collected he asks me to hold the money so the Spruiker can't pick his pocket and again spills his beer.
Omega is given lumberjack duties and normal mayhem resumes.
BS is convinced they have Basher Fries. Wings and poutine are ordered along with more beer.
Meanwhile SFAK Skiddy is picking a fight on wechat with Cranky as he sits in traffic.
Finally the Spruiker asks if anyone can spare some money, to which Paps produces a wad of various notes and coins . He rejects the money saying 'thats not even 50 cents bro " and leaves.
Tank is given his wad of cash back and spills a beer.
9pm Cranky finally arrives at the Bar .
Hugs all round, Skiddy is still agro but we settle into a steady pace.Pizzas are eaten and around 11 we head off in search of fun. Midget Boxing !! Hey Hey .
Its a friendly place and the Bashers are immediately popular.
Tank is asked to referee a boxing match and forgets his primary duty – to referee and so awards the fight a tie.
Bambi gets his pecks out and we are treated to a wrestling match we aren't sure who wins but is funny as hell.
A few shoulder rubs and beers later we head off to another bar. Again immediately popular, we run into some lads from Lamma and exchange stores of the nights entertainment.
We then realize its been peaceful for a while, and Skiddy and Fakey are MIA. Fakey doesn't want to leave Midget wrestling and in his first act of decency, Skiddy keeps him company and brings him to meet up with the rest of us.
Somewhere around 2 we head back to Omegas room for a bottle of Captain Morgans with the Ginger Beer BS went and bought from the first shop he found.
Cranky generously decides some chip crumbs would make a comfy sleep for Omega and packs his bed with crunchy goodness. Somewhere around 3 and the bottle empty 9 very drunk Bashers went off to their rooms.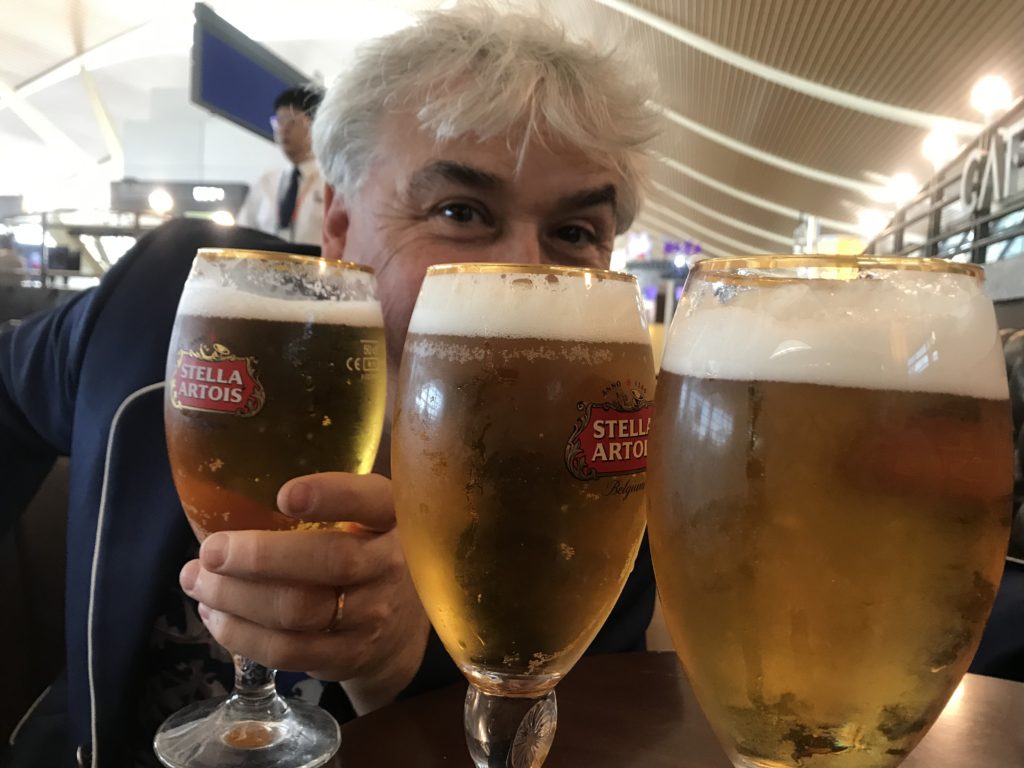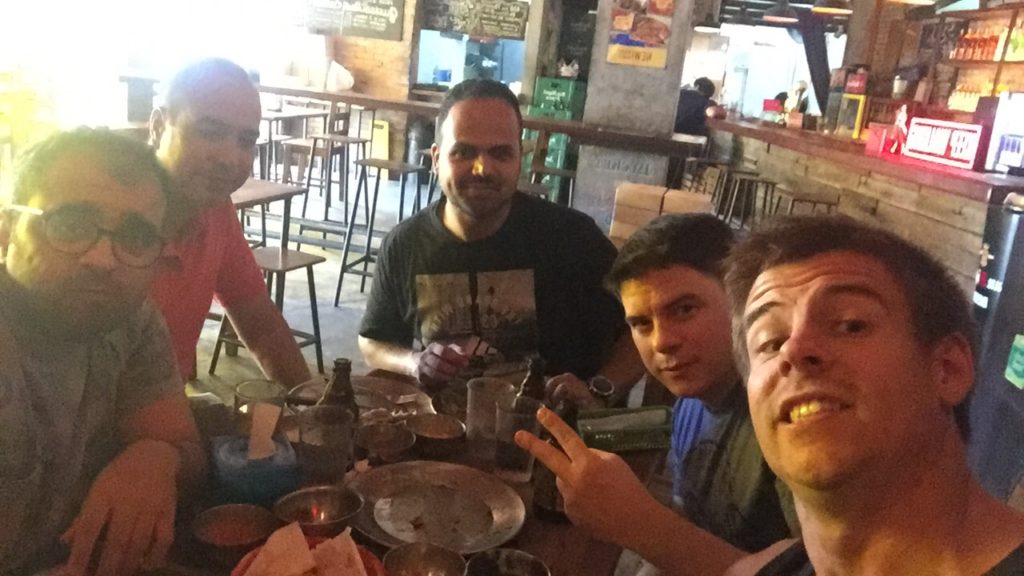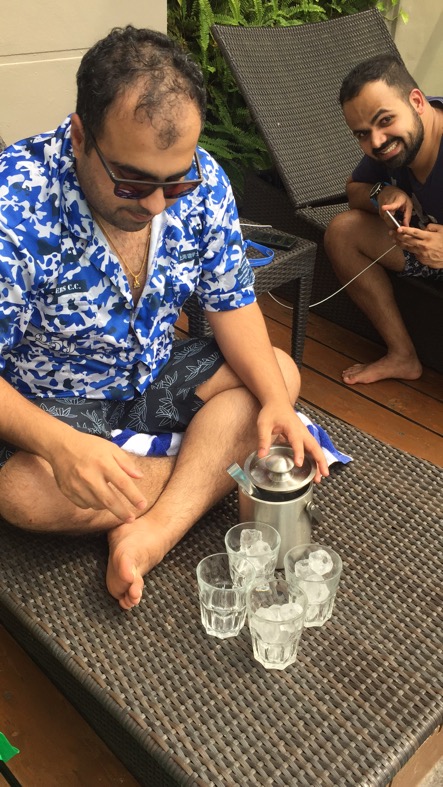 Saturday 16 November by Cranky
The Bashers team met downstairs in hotel lobby on Saturday morning looking like champions in their Blazers. It was clear from the onset that we needed no cricket to prove we were champions already.
Taking 2 cabs to ground the bashers proceeded to secure the best spot at the club right next to the bar and undercovered area with much needed fans keeping us cool. It was not too long before the beers arrived and the day was looking optimistic. Birdy wasted no time and won the 1st toss of many for the weekend and chose the the Bashers team to field first. This lead to the Bashers needing many versions of pregame stretches and warm ups with Birdy strutting his stuff with his new shoes..
Leading the Bashers into the field, Birdy wasted no time in nominating our opening bowler Fake News. An opening over which was the stuff of Legend. 38 runs off 5 legal deliveries with 4 different balls… next was Paps who bowled a tidy over much to the relief of Omega who had run up and down the over before needed a much required breather. Cranky came in next and got smashed for 17 for no wickets.
Next in was Skiddy who slowed the bleeding with his perfect lollies at a good length forcing the batsman to make the mistakes and they did….. the first of all wickets of the day taken by Bambi at deep long on, on the boundary. Brilliant catch but sadly the only one we would see….. Bambi and Birdy stepped up and closed off innings with a tidy score but unfortunately leaving the Bashers a surmountable target of 99 runs to win. Bashers realising that 99 might be a bit of a stretch chose a more realistic target of 38 runs to beat…
Not much to say about the batting but that we didn't beat Fake News's score of 38 runs but the captain finished the batting innings in style with and "aggressive forward defence " in his words.
Another hour passed by and so did the beers for most of the team. Unfortunately Skiddy was not in the best shape and although felt like crap managed to put on a brave face and join the festivities. Paps on the other hand being more interested in sleep and water…. disgraceful behaviour shown, but during the fine session later was judiacated to be wanting and fined to the full force of the law.
During the break between games Fisty decided that he should ensure getting padded up as early as possible and thus proceed to walk around padded up for over hour.
During this time of the break, the extremely small and short blue pants for getting a "Duck" was being strutted around by Tank. Who remarked at the time"these actually fit me" 5 beers into the day and the memory starts to fade………………..,……,……….
Game 2 had all the makings of an interesting game with the toss being decided in a boat race that never took place. Yet we won it again. This meant we elected to field first again. Nothing to dramatic from our bowlers although when Fakey started bowling a few no balls again we though we were looking at a repeat of the first innings. No wickets, and tight bowling from Omega (who likes to clap his own bowling) Tank & Paps restricted the batsman to 70 something…. not to be forgotten was Fisty as keeper who kept the batsman honest.
Out went to bat Paps and Tank ……and another first ball 🦆 for Tank. Bashers in true form and in keeping with our code of brothers in arms launched into laughter louder than the opposition… They too were notes and fined to the full extent of the law. Next to bat was the night Fisty, who having been keen hours before was finally going to prove his metal and did he… massive 6 behind square with a aw inspiring fist bumps and celebration. Unfortunately this was very short lived as he was skittles the very next ball. In walker cranky and realising that much work was need proceed to almost put Paps in hospital with 2 runs at a time. Omega came into bat but I was walking off and didn't look… so your guess is as good as mine….
8 beers and a bottle of Rum down………………………………., Birdy won the toss for the next game but unfortunately the Bashers were looking at 2,5 hours wait…. what were we going to do in that time….. Fine Sessions!!!!! Tank was fines master and proved that no love was lost when he indiscriminately awarded fines to one and all……………………………………. 2nd bottle of Rum and I forgot how many more beers….
Bashers went in to field under flood lights and it looked amazing. Omega and Cranky commentated but I can't recall what was said. (All ideas and recollections welcome) The opposition posted a target (again can't remember)and Bashers went to go pad up. Then there was batting under flood lights Awsome!!! and more commentating… (again anyone who can recall, please feel free to add)….. then there was food, then taxi's arrived and we left. Then there was fine sessions at the pool and then there was Mr Tickles.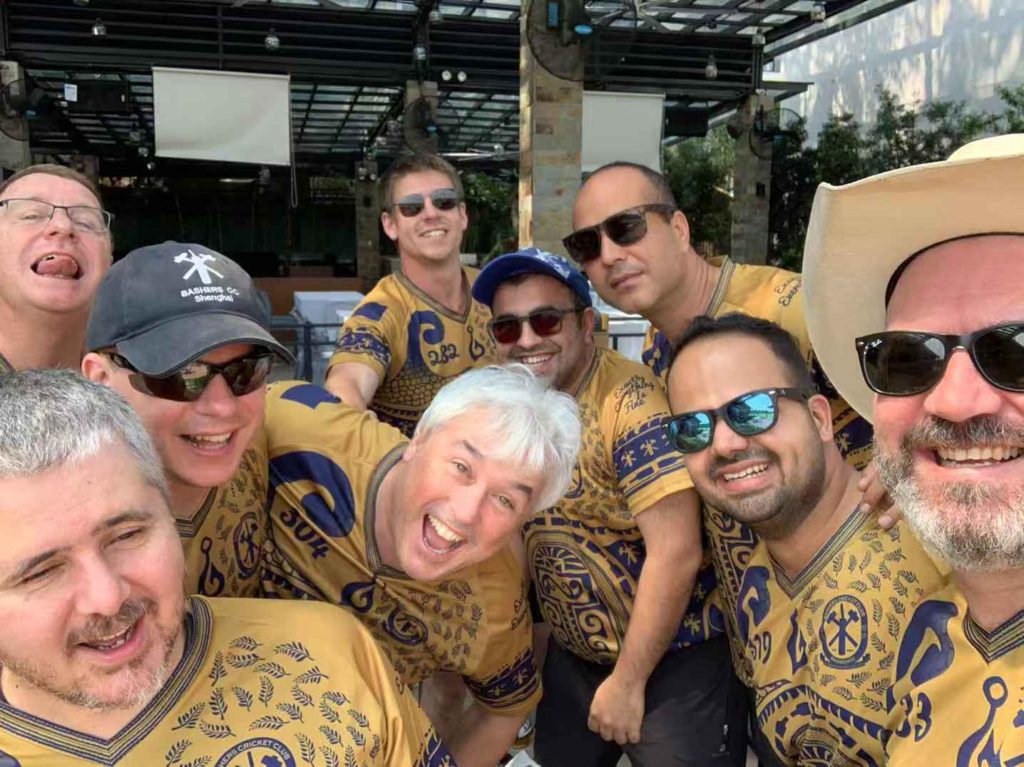 Sunday 17 November by Paps
[Author's note: if you think any of this . , ' ? ! : ; ¥ * # is missing use appropriately don't be a kunt]
a fine sunday morning bashers arrived to the ground on time, only missing member was cranky as he had too much fun last night & he's too good a cricketer.
it was time to choose final 6 out of 8 skipper birdie decided to go by the order of basher number as cranky wasn't there so Bambi got the slot and fakey & our tours master stroker frisky bigballs were left out in the hope that we could play semis.
in the meantime a new word was discovered Pooish meaning (where you feel like being at hotseat but unsure, anyway you hit the hotseat just incase )
skipper birdie won the toss and decided to bowl. the field was set skipper bowled a tight over with no boundaries conceded but still gone for only 23runs, omega rolled the sleeve and bowled some beauties with smile & grin & clapping & appreciating his own bowling. rest all 3bowlers bowled mamahuhu and they scored ……. runs. who remembers its just numbers
batting
omega & birdie opened the innings, highlights as i have a faded memory omega smacking a beautiful cover drive and than bowled on the next ball, incoming batsman tank was bowled for his 2nd golden of the sixes touney furious he was. paps & skiddy tried to hit hard but it wasn't going anywhere, last ball of the innings bambi pleaded and asked paps to retire so that he can smack a 6, oh boy it was a lulli shot a slow half tracker & bambi managed to edge it and ran a 3 by himself with a desperate dive but still it was counted as 1 run as skiddy wasn't in the mood to run more than 1 and why so as he remembered the wise words of omega-ism quote ( if its an easy 2 just aim for 1 run )
and that was the end of cricket for bashers but not all lost before fisty goes all bananas ph orgasiers awarded us with the prestigious Spirit Of Cricket Award and
it was time for samosas, beers, dark rum which we consumed and good bye hugs & kisses were given to tank as he decided to head home and we head back to garden of makati where cranky who's all fresh is waiting for us so that we can do a fine session by pool & which started fakey less don't remember much what happened there but there was time where dude soup was simmering.
cranky had to bang- cock so off he went, balance bashers decided to go for a teppanyaki with lot of discussion to choose the restaurant lot of time was spent at hotel lobby somehow we decided to walk instead taxi & again we head out fakey-less on the way decided to head to a known Spanish place as we arrived again discussion, confusion change of plans someone sighted a Japanese place but that smell we couldn't handle more than 90 seconds, again we head towards Spanish restaurant and this time we did enter the place finding it was a buffet and similar smell 60 seconds out again on the street of beautiful makati and by the time frisky bigballs went all bananas his shorts were above the knees but halfmoon was out lighting the whole manila city.
with the sparkling lights we spotted a korean bbq here went korean wine, beer & some bbq meat.
paps was pooish went back to his room & not be seen again that night. rest basherati went out illumination the town.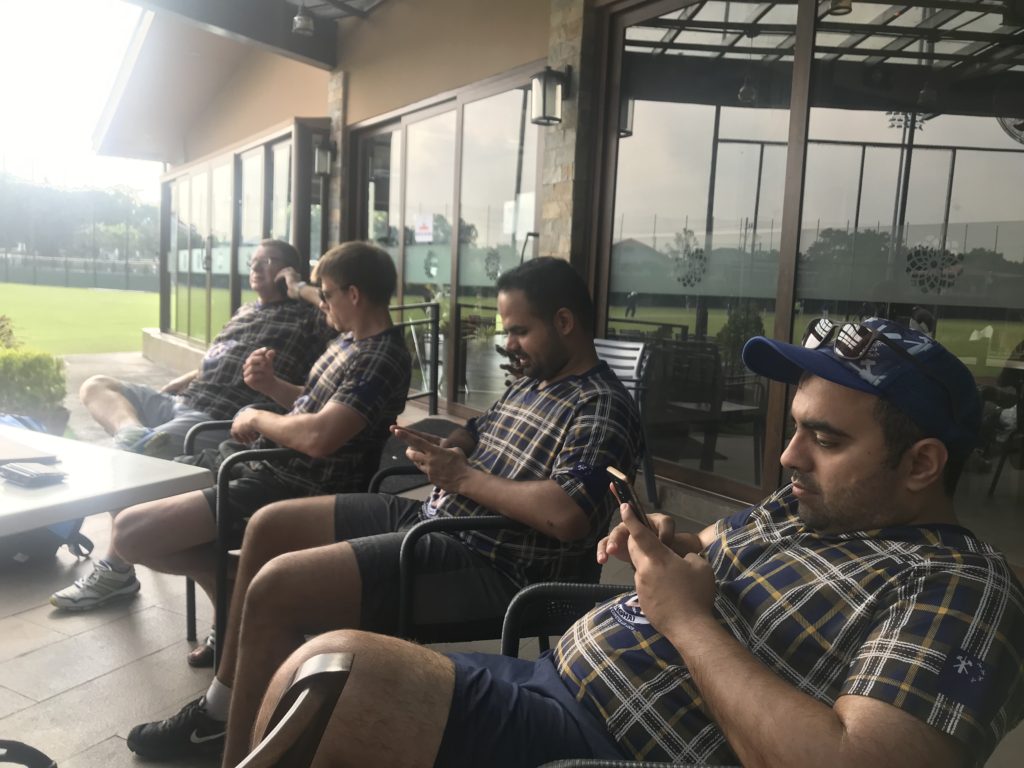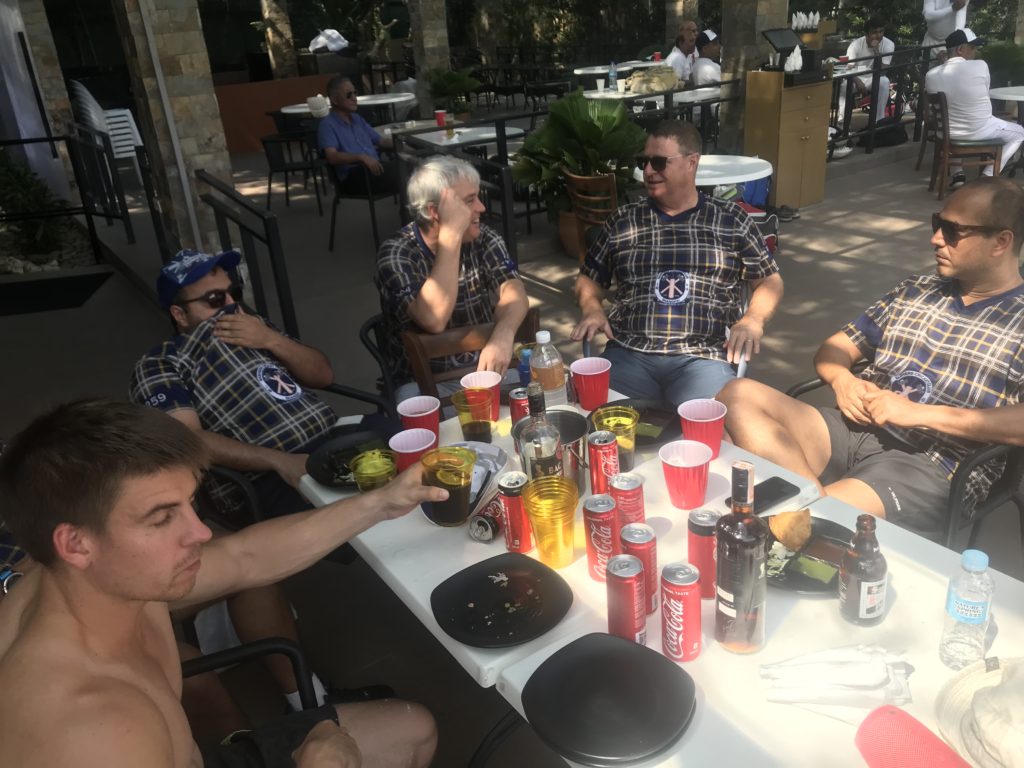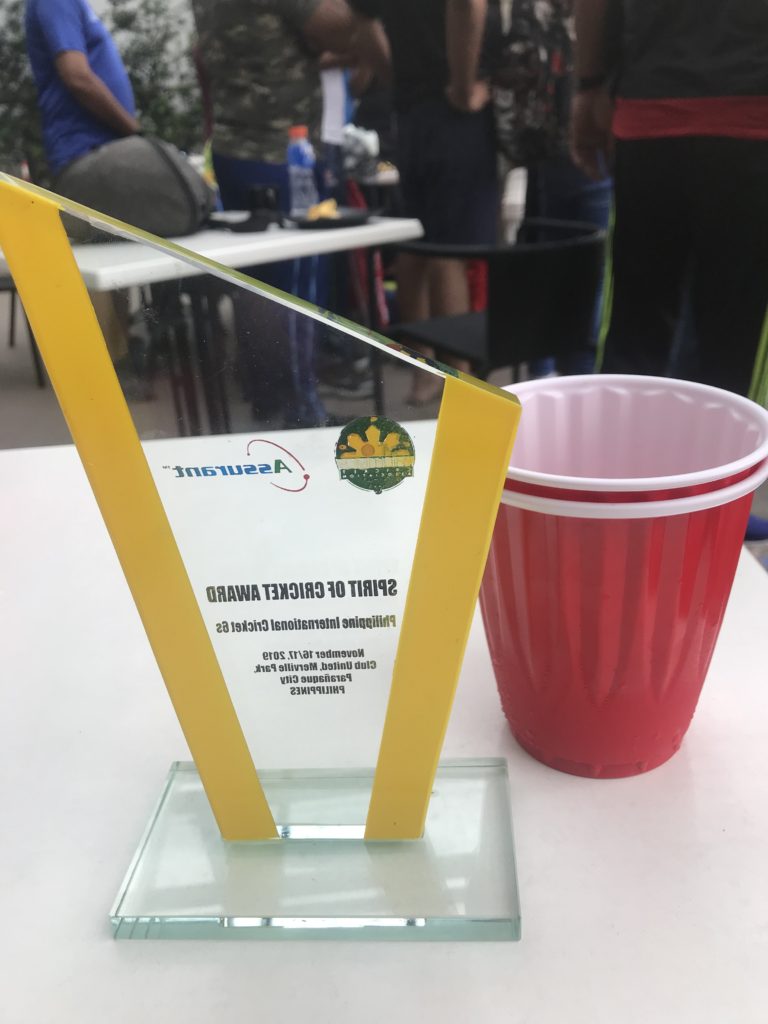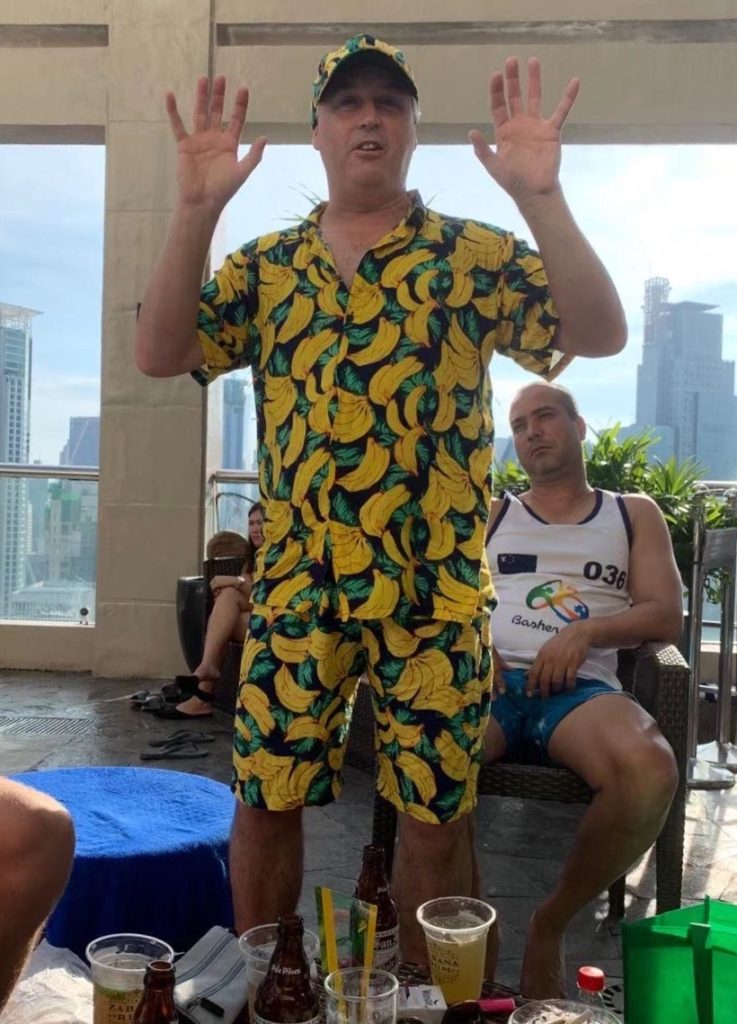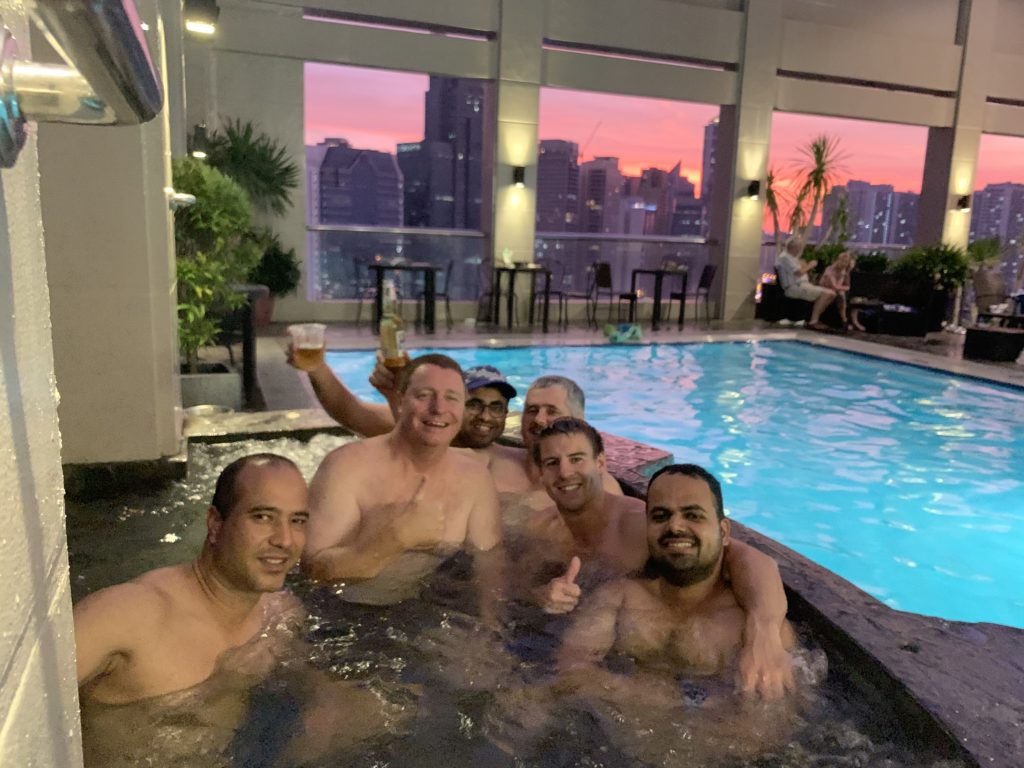 Monday 18 November by Bambi
"Eat!" the infamous Dr. Jolly insisted as we sat down to the buffet table where three days and an evening of boozing had finally caught up to me, rendering me unable to open my eyes and swimming in a pool of death. "It will make you feel better."
"Eeeeuurgh," I mustered in response.
"Okay pool then," was the alternative remedy for my ailment as we headed to the rooftop to join an Skid Row sitting alone, like many a night spent in Tokyo, before an unsurprisingly tardy Fake News finally rocks up.
Only Paps had the skittles to jump in the pool, which had been remarkably cold all weekend given the weather, one last time. Fake News and Skid Row battled it out on Tinder and Bumble and despite failing harder than a Fakey five-ball refused to receive expert advice from their married companions.
Following yet more instruction from Paps I headed back to my room in search of sleep and the ability to stop shivering and sweating my way through the day. During this time, Skiddy departed for his supposedly civilized flight and was apparently dressed to boot, wearing shoes that would likely need to be removed at airport security and discarded for their shoddiness.
With hours to kill, the remaining trio pondered their possible day ahead, checking out at midday (with Fake News predictably half an hour late) before bumbling off for lunch at a nearby café where Fakey and Paps were somehow able to stomach more alcohol — a very manly mimosa and spicy watermelon margarita. After a bid of chicken adobo and some pumpkin spaghetti we were again looking for ways to waste more time, with Fakey's viable suggestion of going to a cinema so I could nap while he and Paps watch a movie.
Somehow the voice of reason, I pointed out that our plan of leaving around 5 p.m. would wind up with us hitting rush hour traffic and that we should probably leave earlier. We pottered back to the hotel, Paps was feeling pooish so sat on the john while I took a nap on a sofa in the lobby and Fakey probably did some more swiping on Tinder.
Wake up, grab bags, taxi. At the airport by 5 p.m. and Paps is accidentally smuggling his lighter through security and trying to give it to any staff member who will listen. Check in, get tickets and discover Paps is sat eight rows behind Fakey and me.
A quick hunt for Army Navy (or "US" as Skiddy calls it) yields no results as we're in the wrong terminal and so we wind up at Roasters for chicken, crisps (wtf?), more chicken and about 18 litres of iced tea for Fakey.
We head towards the gate, look for a new manpurse for Paps and buy Tanduay for AGM fines. Bambi hits the waiting area for another attempt at a nap while Fakey and Paps go shopping and return for Paps to give the official definition of the word 'pooish.'
"dr.jolly's words of wisdom
– i am ( pooish )or i m feeling (pooish )
– ( pooish) its feeling if u wana poo but u r not sure but anyway u go to the hotseat just to safe!"
As Paps is at the back of the plane, he gets to board first and Fakey and me follow shortly after. Paps was lucky enough to land an empty seat next to him, though this would go on to be occupied by Fake News as he tried to avoid me and the guy two seats across competing to be the biggest dahulu.
20 seconds later I wake up and we're in Shanghai, where Paps sends me and Fakey to e-channel registration as he goes to use the actual e-channel. Despite Paps and Bambi telling Fakey multiple times pre-departure in Shanghai that his passport wasn't electronic, Fakey joined and was quickly sent back to the regular Joe schmoe channel while Bambi got signed up and promptly forced to wait behind a growing group of airline crew who were obviously a priority.
Finally the last one through immigration, I catch up with Fakey heading in the wrong direction and we eventually find Paps sat by the Gladiator in the far corner of the luggage lobby. We blazer up ready for the 20 degree decline in temperature — all appropriately dressed in shorts as our dress code prohibited trousers from being taken to the Philippines — and then head out to grab our taxis.
Until next time, paalam!