Suzhou Sixes, 21 June 2015
With SS out of action, due to too much wizard tea the night before, Tucker stepped up to skipper the side. Someone won the toss then we bowled first. A few last checks on the rules (no LBWs, basically no wides either) then we were off into…

Game 1: Bashers vs Suzhou Academicals
Bashers had something to prove against Suzhou, our first opponents, having lost in the final on the last ball in Nanjing. Pope to open the bowling, second ball smashed to deep mid-wicket whereupon Bullet took a quite incredible catch falling low to his left. Incredible, as in it was scarcely believable. What a boost this gave us, everyone running over to congratulate the wee man and spirits uplifted. 2 more wickets followed in the first over, both bowled, leaving Suzhou Academicals reeling at 1 for 3. Bullet followed up with more good work with the ball in hand next over, tempting the batsman into feathering one behind. Sharapova and Hype kept a lid on the run rate conceding only 4 between them, resulting score at 13-4 after 4 overs. Suzhou hit out late on against Messi to post 26 runs. Messi then made a mockery of this princely total by knocking the runs out in less than 2 overs, selfishly scoring all the runs himself. Job done. Bashers off to a flyer and everyone congratulating themselves on what can be achieved when playing sober.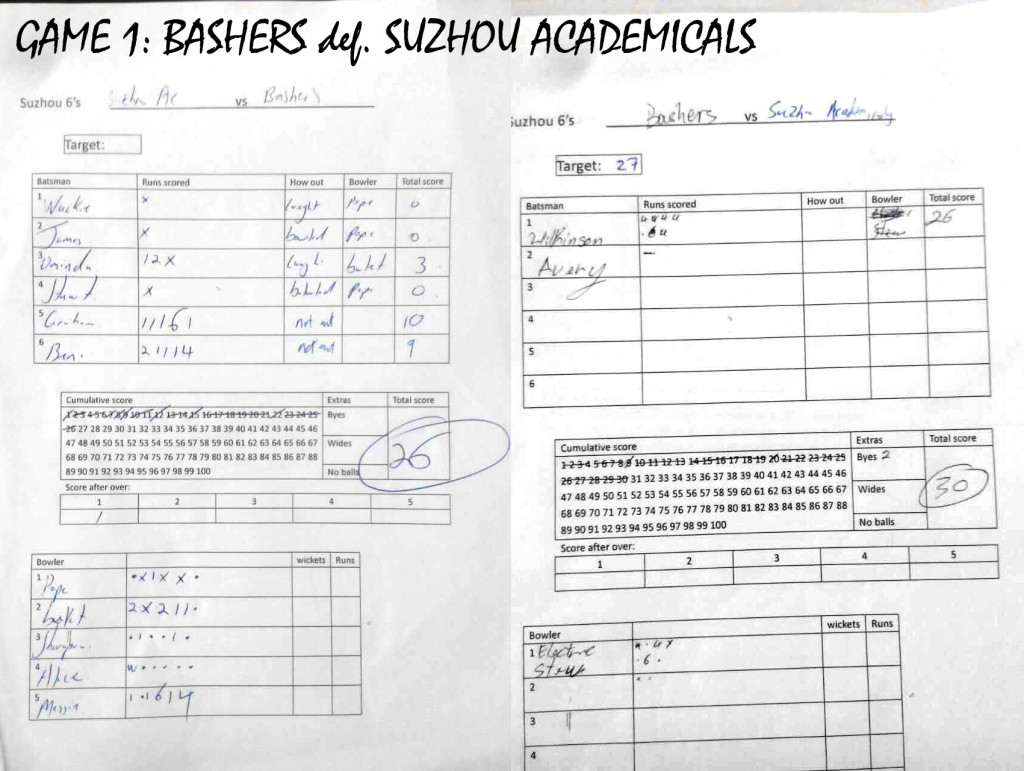 Game 2: Bashers vs Suzhou Non-AC
Next up, the other Suzhou team. Sharapova opened the bowling, and was unlucky to concede a few sixes. But a chance at redemption fell her way in the next over. With Paps bowling, the same batsman inflicting all the damage hit high over cover and, running from a deep mid-off position, Sharapova took a splendid catch emitting a shrill screech of delight at the thrill of bringing her tormentor's innings to an end. Bravo! More tight bowling from Paps kept the pressure on, Pope let the side down with a few loose deliveries and then Tucker and (illegible on the scorecard) pegged them back to set a target of 45 to win. Paps and Truffles opened the batting, Paps has boasted beforehand about how good he felt and was true to his word, hitting the first 5 deliveries of the innings for 4 looking in magnificent touch. A mix up at the crease saw Truffles depart run out, and Pope added a quickfire 17* from 4 balls, Paps finishing on 31* to see out the target. Bashers on a roll and nothing can stop us.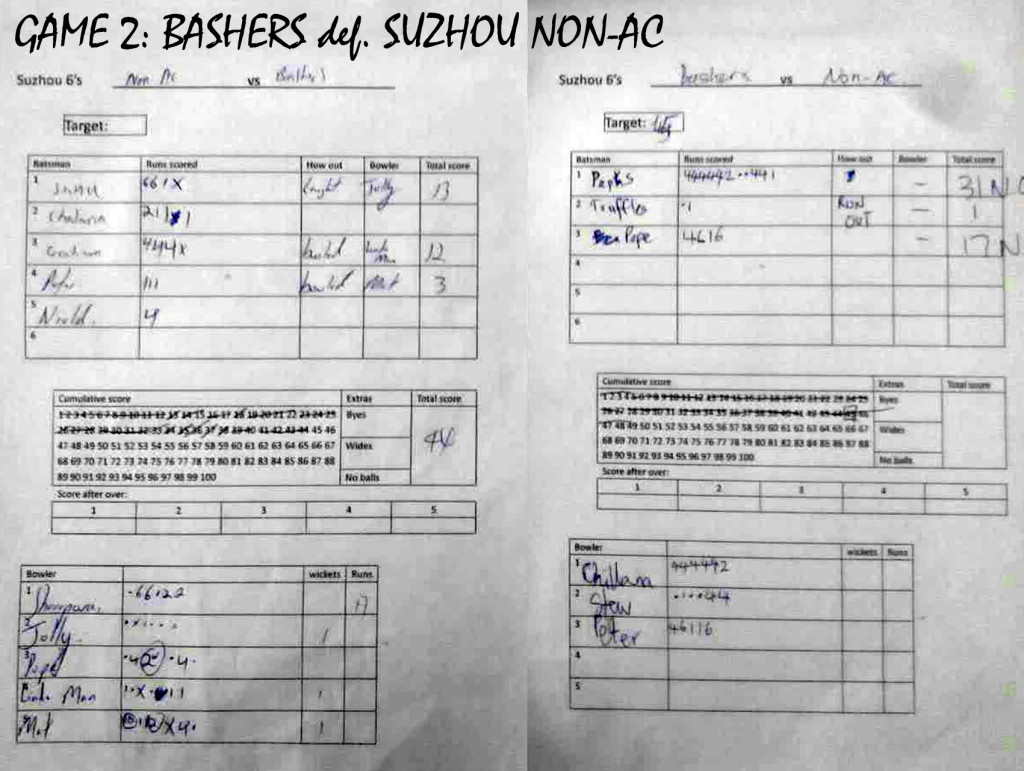 Game 3: Bashers vs Nanjing Warriors
3rd game, phew. We lost the toss and Nanjing Warriors elected to bat first. Sharapova first over with a demon inswinging Yorker had the stumps cartwheeling, claiming the prize wicket (of someone from the opposing side). Ran hou Paps again keeping it tidy. Messi got hit for a few sixes, falling a bit short at times with some sterling work in the field by stand-in skipper Sharapova saving a few boundaries. Enter Shit Shoes who had ambled up a few minutes before without a care in the world having been absent all morning and then proceeded to take a rather nonchalant hat trick, thanks in large part to 2 fine stumpings from Tyrone Ruffles. It was just that kind of day. Shame SS was only there in spirit to witness it. But the scorecard doesn't lie and we have to give a modicum of credit to him for throwing a cricket ball in the general direction of the batsman and allowing the fielders to do the rest. With SS having ripped through their middle order, Bullet next up was unlucky to miss out on a wicket when the ball looped over T. Ruffles' head within catchable distance ("it's behind you!") as he was peering off to the square boundary in expectation of another thumping six. This let-off eased the pressure somewhat and allowed them to regain some semblance of respectability with a total of 46. Our new hero SS and Bullet opened the batting and early signs were promising when SS dispatched the first ball of the innings for a maximum (it was a short boundary). SS began to flag a little after all his recent exertions and proceeded to swing and miss… a lot. A crisp drive through midwicket briefly raised hopes before he was bowled all ends up next ball. Bullet scratched around before somehow hitting the ball onto his own stumps but not before contributing an invaluable one run. With Sharapova rotating the strike to good effect Paps again demonstrated fine form with a volley of boundaries to see us safely home. 3 matches, 3 wins. Boom!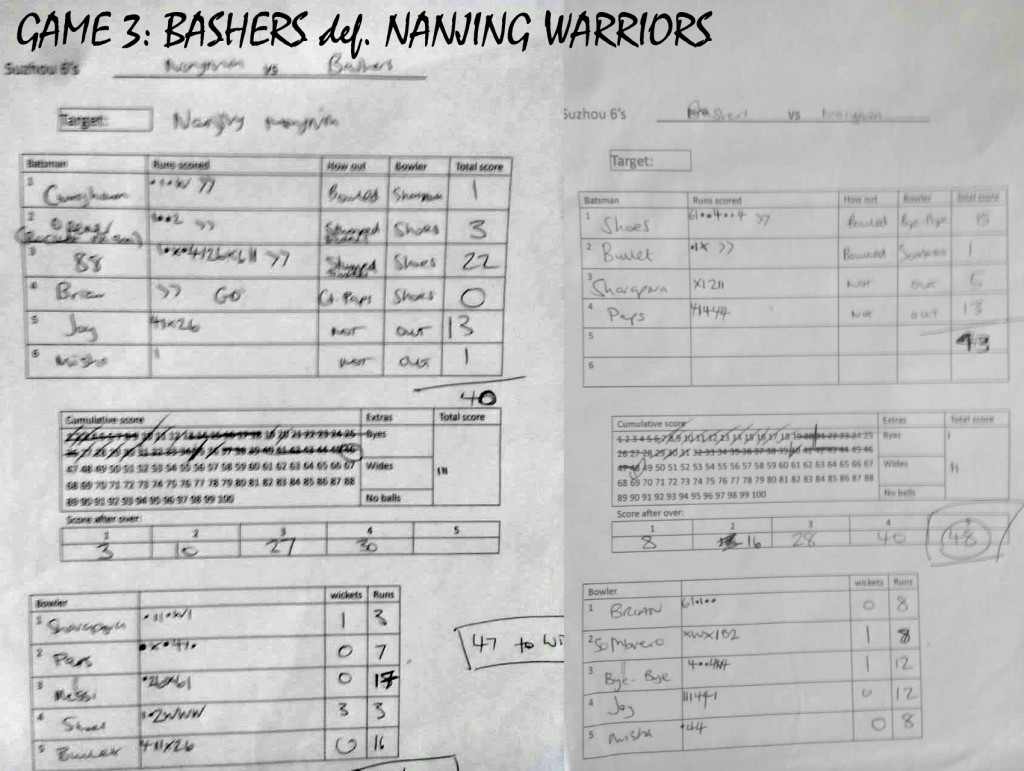 Intermission
The general levity of the day was temporarily broken with some intense discussions about whether to proceed directly to a final with the Bogans (safe passage had already been sealed by both teams and we were due to meet in last group game anyway) given the looming threat of rain to consider and the need to vacate the pitch shortly. It was eventually decided by Tucker (henceforth known by the Bogans as Serious Simon for turning down the proposal in favour of playing out the full complement of games) to proceed as planned.
Game 4: Bashers vs Bogans
4th game, with rain starting to dribble down. Truffles and Hype batted with great endeavor and some energetic running between the wickets. Ably assisted by Bullet we posted 42, but may have hoped for a few more. Paps once more opened up nicely, restricting the frothing Bogans to just 4 off the first over. Hype then picked up his first 2 wickets of the day, much deserved. Momentum was lost when Bullet strayed a bit short and went for 13 runs, then Pope got tonked about in 3 balls to leave us staring at our first loss of the day. In truth, we never really got into this match, but it left the group thirsting for revenge in the real final against the Bogans again, and for those not selected, a little tea and a spot in the commentary booth.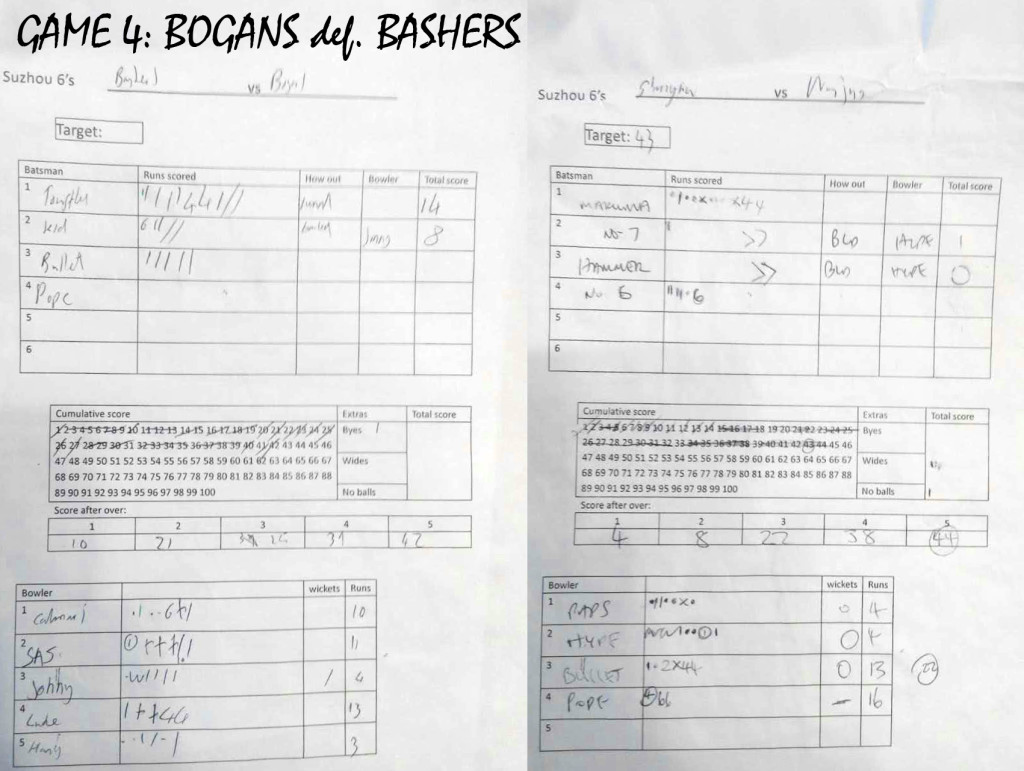 The Final: Bashers vs Bogans
Batting first our ever-dependable Paps, who had made yet another pre-match premonition of an orgy of runs ("I'm going to kill them"), got caught first ball. No sweat, this team has great strength of character which Messi demonstrated in abundance smacking his first ball for 4. Next ball, clean bowled. Not to worry because this brought to the crease the Avery brothers (Tucker and Hype) who set about destroying the bowling attack in a flurry of 4s and 6s for a huge partnership of 68 and a total of 72. Well done lads! The Bogans labored under the burden of such a big chase and mustered only 20 runs after 3 overs, thanks to tight bowling from Paps, Sharapova and Messi. They rallied briefly in the 4th over throwing caution to the wind and getting Hype away on a few occasions. That left 31 runs required in the last over. What seemed an impossible task for the oppo seemed slightly less impossible when Tucker's first ball went for 6, thanks to SS tempting fate on the ball-by-ball wechat commentary. Frayed nerves soon gave way to joy as Tucker bowled out a tidy over and the cup was ours. Champions!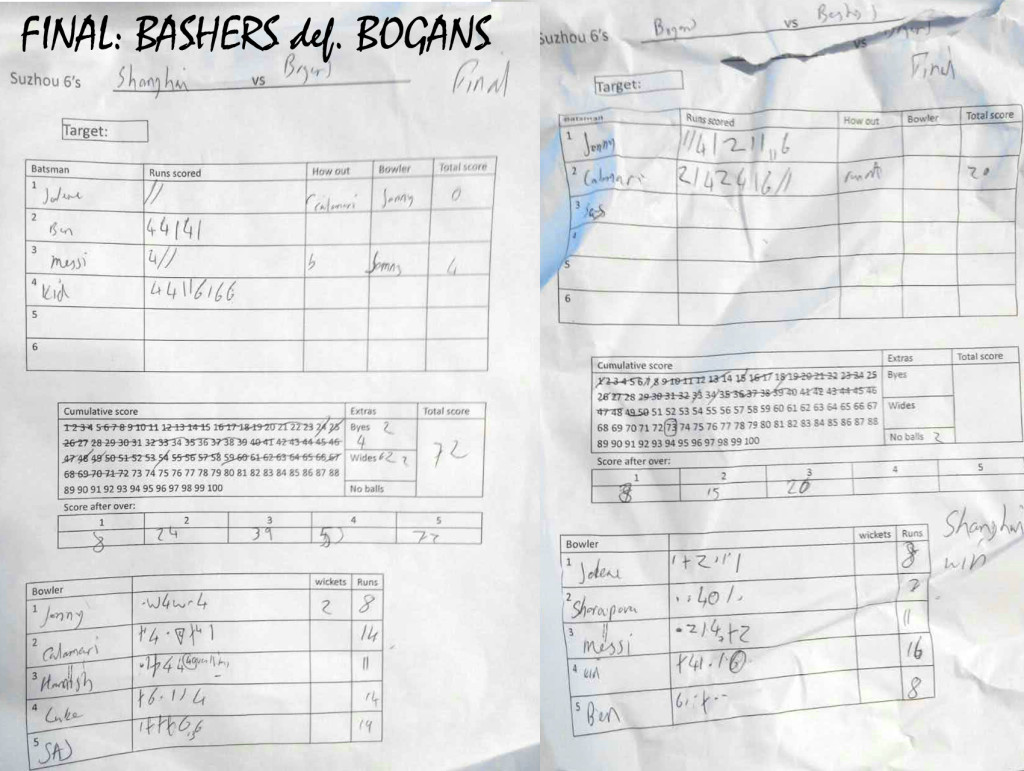 Post-Tournament Celebrations
In the ensuing excitement Bullet got waylaid by a cup of tea, chicken carci were devoured and some dodgy KTV was sung but all in all it was an exceptionally fun weekend played in good spirit and yet another trophy for the Bashers' bulging trophy cabinet. Thanks to our Suzhou friends and particularly Graham for hosting the inaugural Sixes tournament in this fine city. The first of many, we hope. Later Hype was named Player of the Tournament and even got his own little trophy!
Sharapova & Pope
2015-6-23