Imperial Leisure assured their place in the playoffs on Saturday after gaining a point for a tie, but missing out on a win that would have put them into second place. Leisure batted first, putting on a testing 165, with an excellent return to form for Fruitbox with a well-crafted 50. In reply Hot Dogs could only manage a measly 55 off 10 overs before monsoon conditions stopped play, and the match was called off.
Captain Tampon retook the reins and put thoughts of treason and mutiny to bed with another commanding managerial performance. Not only can he have the Camel reopened at will, he can lead a group of hungover and aged Bashers to fill eskies and sort out kit in record time.
While Tampon was ordering the troops around inside, outside the Camel we discovered that Mensa is a closet Indian, while Stingray always felt there was an Englishman inside him. "As a boy, I would speak in sentences with multiple clauses, and words with more than one syllable, rather than the guttural utterings of my fellow Australian classmates". Mensa joined in this circle of sharing with his own inner feelings. "You know, I always felt at home in Indian bars, I always knew I was different."
On the bus, Fifty/Fisty Singles/Cymbals, regaled us with tales of the "faaakin bootiful all you can faakin eat 'otel breakfast, which I'm missing to play wiv you kaaants." Which according to him consisted of "any faaakin omelette you want. Anyfing. You want faaakin cheese? You gottit. Also them croissants." He introduced a new term, "pot hunter", which apparently does not mean an especially motivated smoker of marijuana, but instead a person, or team, who particularly desire to win trophies.
It was discovered at the end of the journey that while Rash was buying his fellow team mates water to put in the ice cold esky he had lovingly prepared in order to hydrate them through the arduous battle ahead, none of these Basher brothers, for whom Rash had sacrificed walking 50 metres and spent 32.5 RMB, had put his kit on the bus.
Birdy provided an inspirational soundtrack, as always, and with the finest tunes of the 80s still ringing in our ears, we descended upon the ground.
Shortly after arrival Tampon lost the toss, and Bashers were put into bat.
Cymbals marched to the crease with Glamour, whose flowing locks were noticed by several shampoo ad scouts on the boundary, and both batsmen proceeded to display some test-cricket levels of self-restraint in building a low scoring foundation before Glamour's leave-in conditioner clouded his eyesight and he was caught behind for 6 off 14.
Fruitbox joined Cymbals at the crease, and lived up to his claim to have returned from his vacations the "new and improved Fruitbox 2.0", putting on an excellent 50 with 6 fours, and a lot of running. His best shot of the day was a lofted drive to long off that flew through the air, looked like it would clear the boundary by six feet, but then crashed to earth a couple of metres short. By this time Cymbals had got his greaseproof paper-wrapped salad cream sandwiches out and had sat down to enjoy them, before Fruitbox ordered him to run for the finest single the SRFC has ever seen.
Just before drinks Leppa was heard to ask Chancellor where he had been the previous week. Chancellor informed Leppa "look here you old scoundrel, I was playing, and playing like Gordon Brown, Kenneth Clarke and George Osbourne rolled into one austerity chancellor, with no VAT giveaways, no pension relief on capital gains, and a tight hold on national insurance contributions." Leppa duly chastened, apologised unreservedly.
Fruitbox reached his 50 after drinks with a wristy single to third man, and Paps replaced him. Cymbals by this point was attempting the highest Basher score with no boundary. "Hittin' the ball abaaat willy-nilly is for faaaakin mugs, innit? I'm a kind of caaltured David Gower and Colin Cowdrey playa, you muppet." Cymbals took three overs of concerted effort to get himself out, sprinting down the crease and skipping over the ball for a good hard stumping and a well-deserved anchor innings of 39, his highest as a Basher yet.
Stingray frogmarched to the crease, only to be sent back again after being caught and bowled. Obviously more of a mid-nineties English batsman than he would like.
Captain Tampon was called on to steady the ship, and his first shot was a delightful clip off his toes over square leg for 2 runs. By this time Paps was warmed up and biffing and boffing the ball like 1960s Batman all around the field in imperious fashion, in the end reaching 34 not out and the best strike rate of the day of 162.
Tampon's initial success was cut short by Paps running him out for a run that was never there, and Leppa stepped up to steer the bashers home with Paps for 165.
By this time an ominous wall of dark clouds was circling the ground, and the air was thick with portents of hot, wet violence.
Undeterred, Rash opened the bowling with some quick stuff flattered by the ineptitude of the two Hot Dogs openers, more Laurel and Hardy than Gower and Cowdrey, conceding 10 runs off his allotted 3 overs.
The Hot Dogs, noticing the untrammeled power of Rash's diseased nether regions, attempted to put Leisure off by claiming that having two substitute fielders was cheating. Their childish bleating banished to the boundary, Chancellor set about the openers.
Uncharacteristically our financial helmsman conceded a few wides, but took the only wicket of the day. Fruity took the only wicket of the day, as Glamour lived up to his name by diving like an Italian footballer for a dolly of a catch that went a few feet in the air.
Fruitbox was unable to match his mastery of the bat with his bowling, and was wider than he would have liked. Paps was similarly unable to convert batting into bowling, and also forgot his hat trick ball from the previous match, throwing the ball down leg for a wide. But with only 55 runs scored off 10 overs, and the required run rate up to 7.5, Leisure looked poised to secure second place in the table and an easier route to the final.
It was not to be. That ominous ring of swirling grey anger broke onto the Leisure team, and within minutes both teams were huddled under cover, watching the outfield turn into the Huangpu. Soon afterwards the match was abandoned, and some of the team took the opportunity of an au-naturel shower and paddy field sumo wrestle. With threats of the disciplinary committee, and armed with jugs of beer, the team put some clothes on and rued what might have been. Sniping from the other table while sipping on their Malibu Cherrryades, the dirty Doggies claimed they "were just about to accelerate and win the game". Yeah right.
With Pleasures' game ruined by the biblical flood, they joined us in a fine session on the way back to the warm womb of the camel.
On the bus the new Basher was discovered to have been the cause of the substitute fielder debacle, and the name Cheat was born. Cheat came up with the best fine of the day, punishing  "all those who want a Chinese girlfriend", which I suppose is especially true of those with Chinese wives.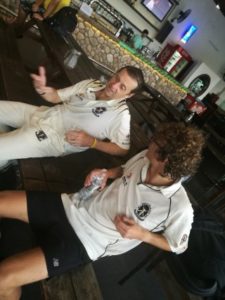 Chancellor explains his hair care routine to Glamour