As Friday's weather threatened to wash out any hope of play on Saturday the heavens cleared and the sun shone brightly on the morn giving up Shanghai's first proper day of Spring for the Bashers Presidents XI's inaugural match vs Songjiang University students.

Everyone who said they would be present, were present for the bus, and as seems to be a popular trend lately, folks were sending in their pre-game travel selfies to prove they were indeed en-route. Also on board were a couple of new bashers I hadn't had the pleasure of meeting as yet, but both had beers in hand so they seemed to have found the right club! One had been named – 'Square Root', and the other chap was playing his first match and the name 'Chemo' kept ringing around the bus, well from Frodo anyway, as a potential Bashers name (some frowns over this and rightly so!)
A longish journey out to the university grounds ensued. Some folk had previously seen a few of these natives at the SCC sixes held late in the season of 2014 where they entered a team and a few of them showed considerable promise so a pushover was not likely, especially on their home turf…That brings me swiftly on to their 'turf'…or as it turned out, a football pitch (soccer pitch for the uneducated) with some kind of strange Chinese interpretation of a cricket pitch marked out on it. NO cut grass, no rolled wicket…literally just lines drawn on a footy pitch! Shit Shoes and Sharapova has seen fit to send the artificial mat that is used in Nanjing to help out, but even with that we all knew it was going to be a 'variable bounce' pitch that day!
Case in point:
Not sure who won the toss as I was changing in their extremely well stocked clubhouse with equipment that would have put the whole of the SCC to shame…and it was a shame that they hadn't thought about the most important thing…the wicket!
Anyway, I digress…We were batting first. With Long Dong looking gay and the largest crowd ever assembled at the boundary of any Bashers game i'd ever been a-party to we began our innings and they assembled their attack.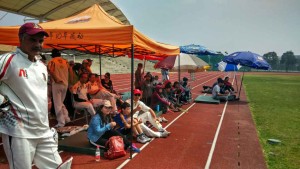 Paps and Truffles took to the crease for the Bashers, and as I wasn't paying much attention I don't know Hu their opening bowler was, all I could tell was that they seemed to know the pitch a lot better obviously being the home side as Paps was flailing at everything and getting nowhere. A few wides here and there then low and behold their first wicket, maybe ever, against 'proper opposition'! The combination of variable bounce pitch and wide full tosses and half trackers had flummoxed Truffles and lulled him into a false sense of security as one grubbed along the floor and into his stumps! Truffles departs scoring 1, bowled by Feng.
Recovery was on hand in the form of Parrot, willfully dispatching the rest of the over. Then Hu came into the attack, by far their best bowler and definite candidate for Pleasure or Business. First over = Maiden! They mixed their bowlers, not allowing any to consecutively bowl which meant keeping us on our toes, a job Parrot was doing well with as he continued to slap the attack around accumulating multiple boundaries – a couple of 4's and a 6. Pap's was next to fall, Bowled by Gao for 7 runs.
In came myself. I was genuinely worried about being bowled by a grubber as, a back foot player, Pap's had warned me 'whatever you do, just get forward' as he walked off. First ball, popped but luckily managed to somehow connect and hit probably the biggest 6 of my playing career. Out of the ground, over the fences, and into the 4 storey building hitting about halfway up!
Parrot was next to fall, a 2nd highest total of 24 reached, caught in the field. New basher Luke into the fray. Showing some orthodox skills from the off, he'd obviously never seen a wicket like this before! A good partnership formed and by the time I was inevitably bowled by one shooting along the floor from Gao again for 26, we'd put on a healthy 40 or so between us.
Sharapova entered the field and almost immediately Luke was triggered by the Dong, grinning like a cheshire cat as Luke bewilderingly stared at him as he trudged off scoring 13, Gao had struck again!
In strode Shit Shoes, an air of confidence portrayed as his took his guard and eyed up the field. First ball – swish. Second ball – swash. Third ball – edged to the keeper. Shoes had made another duck of the bowling of the opener Feng and Frodo was up next at the crease. 3 deliveries later after somehow getting a single, Long Dong was at it again – triggering Frodo leg before missing leg and another set of stumps! Frodo LBW Chen for 1.
Hard-on, five or six beers up, came to the crease. Straight in to face the maiden and best bowler Hu! After seeing Hu off, Sharapova had the crease and farmed the strike well, obviously smelling that Hard On was a few sheets to the wind when passing each other running and even managing to make him run a three to take strike in the next! Boundaries and some great stroke play, good running and 3 boundaries and our score was getting to an unreachable total.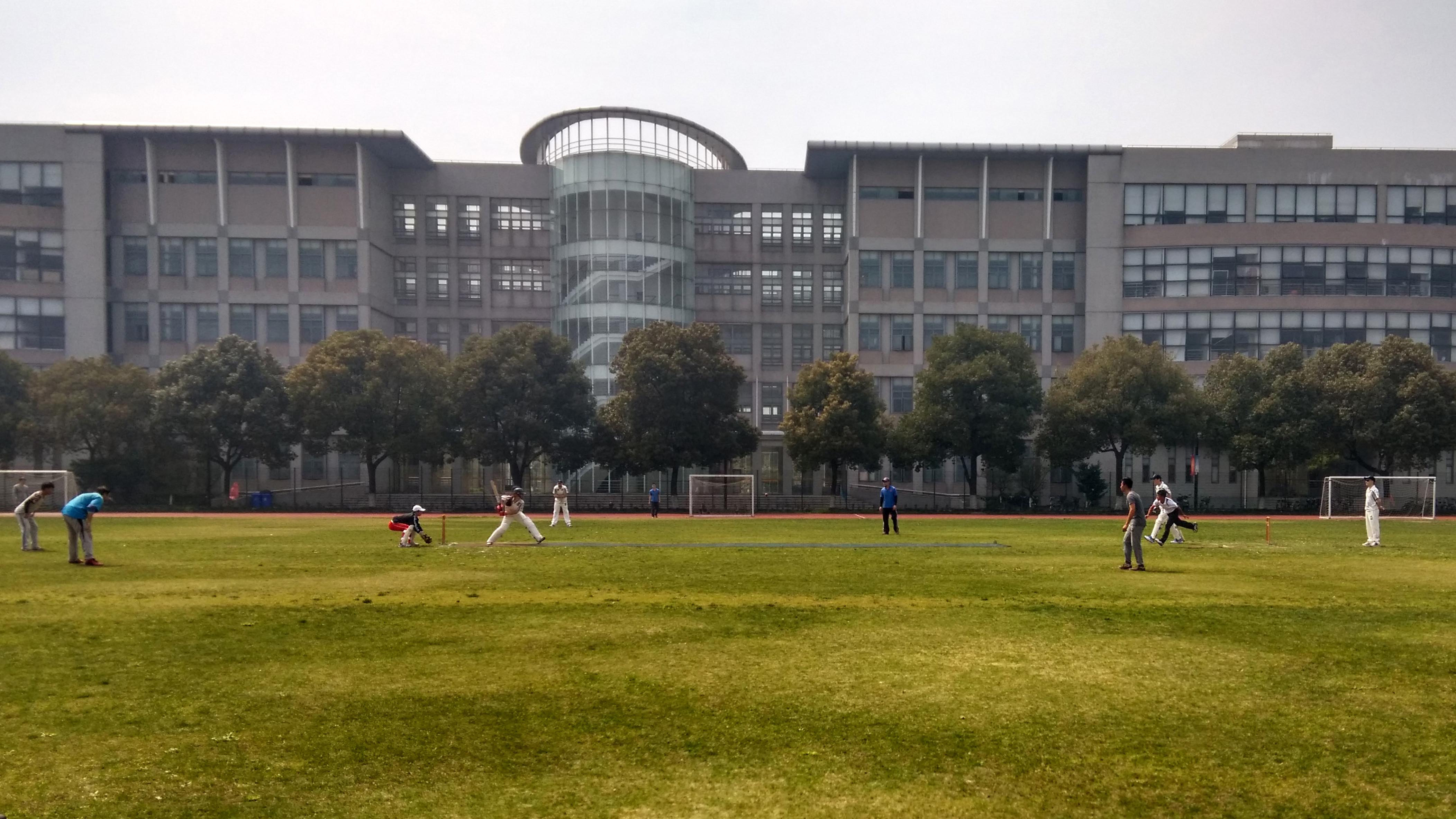 Hard On was next to depart, bowled by Hu coming back for another stab, bowling him for the score of 3. Square Root in to see off the remaining overs. That he did, and carrying his bat after a boundary and some decent strokes for a total of 13, alongside Sharapova on a score of 21 – a true captains innings. Total of 140 for 8 of 20.
Taking to the field for our fielding, unfortunately the scorebook was not easy to decipher (and after writing so much above I couldn't be bothered to add it all up!
Highlights:
* Messi opened with some good wobble and got his just desserts with an awesome C & B. He looked as shocked as all of us clinging on to one that was traveling! 2 overs, 4 runs 1 wicket.
* Long Dong on next, decent and bewildering bounce as usual – this man can find the sport on ANY pitch I swear! 2 overs, 8 runs.
* Hardon bowled some sterling stuff, despite nearly getting clotheslined by some apparatus in the outfield! Nearly following in Messie's footsteps with a C & B but this one was traveling at twice the speed of Messi's and then some! It turned into a great stop and great effort! Surprising as was now at least 8 beers up! Figures of 3 overs, a wonderful bowled wicket and 14 runs from his 3.
* Frodo had a cameo single over, 6 runs coming from it before Sharapova decided he was too expensive, much to his disgust!
* A great stumping from Truffles off of the bowling from Messi!
* Parrots young'un Anthony had an over, a very solid over, only 3 runs coming from it showing Frodo how it should be done!
* Shit Shoes had a couple, responding to a 4 being hit off his pie with a pearler bemusing the batsman and rattling his pegs! 2 overs 1 wicket for 10 runs.
* Up steps player of the match and captain Sharapova, showing all of us how it should be done – 1 wicket LBW given by the immovable Chinese umpire (although dubious as we tried to call him back, then thought better of it as he would no doubt be chastised otherwise!). another wicket the next delivery, bowling Lai at his first attempt. We all came in to put the frighteners on Chang, and as if it were written, sends a low shot in the air right back at Sharapova, not noted for astounding catching ability, gracefully gobbled around her ankles! Hat-trick hero! Then followed the usual few wides before yet another wicket of Gao – 1 over, 4 wickets, 3 wides! Unfortunately there were no photo's of the mass pile-on dealt to Sharapova upon successfully completing her hat-trick, needless to say, was all in the spirit of cricket and not debauchery!
* Post Op, Paps and Square Root finished off the tail with an over per man, myself taking a C & B, Paps and Square Root both Bowling their men.
If i've missed anything, I apologise! Forgot I was doing lumberjack!
The journey home was littered with pit/piss-stops due to taking nearly 3 hours in Saturday afternoon Shanghai traffic…evidence of which: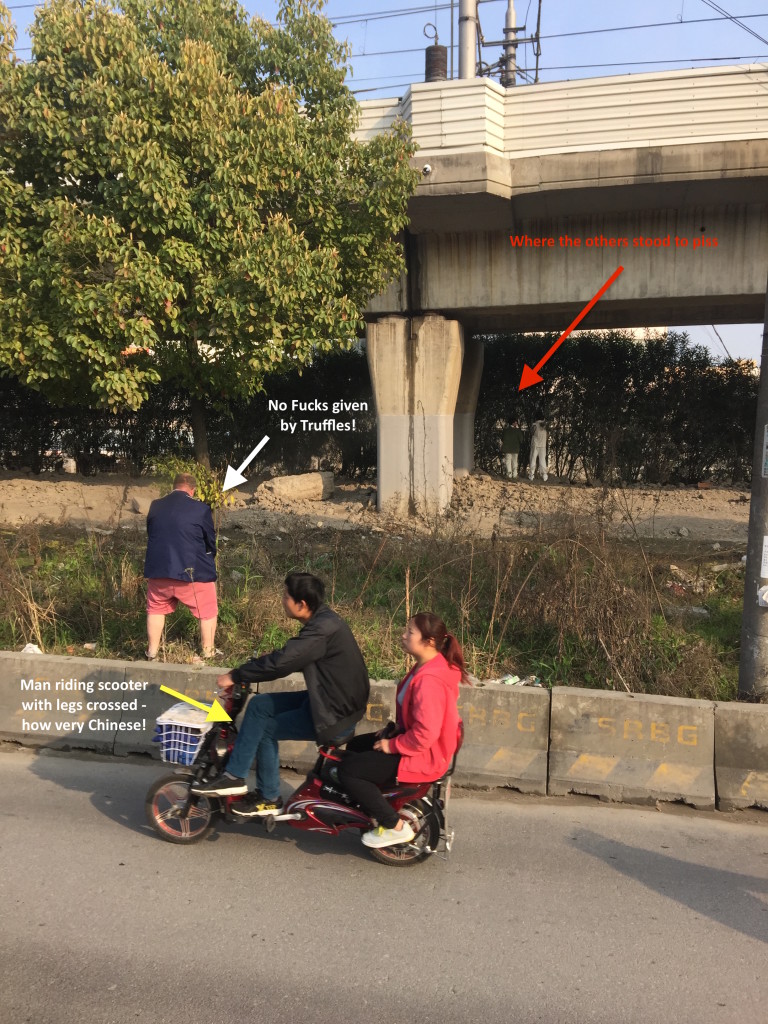 And lastly, as touched on earlier with the name of Chemo thrown into the fray for naming our new member, Luke, we decided that, after much deliberation and lack of ideas, that because he has a Japanese wife, to call him Jap's Eye!
* No racist intent was insinuated regarding the 'natives' comment and certainly no prejudice implied regarding beer consumption by Hard-on!