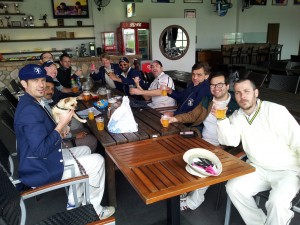 Rain was forecast, and light rain was falling when the Pleasure team assembled at the locked Camel at 7am. Sinbad managed to call Steve, who arrived soon after to allow us to get the kitbag. The Leisure was admirably represented by Dags (and Coco), Woodstock, Shitshoes, and Spanner, but somehow, despite Woodstock's inclusion in the playing eleven, there were no pies… or beers on the bus!
The weather was gloomy, but not raining at the SRFC. Long Dong won the toss, and immediately put the SCA NForcers in to bat. This seemed like a good strategy if the game was to be interrupted by rain (although this didn't happen). Hustler opened up with the wind, delivering some fine chin music, and eventually picking up a caught behind to Post-Op off a fine leg glance. At the other end, Swahili was bowling a mixture of out-swinging deliveries that created chances that went down in the slips by Spanner and at point by Shitshoes. The pressure told as the batsmen attempted a suicidal run off a defensive push to Dags at short cover, who picked up, turned and threw a direct hit at the bowlers end.
Swoop came on, and a defensive push directly to Shitshoes at point led to another runout at the bowlers end. The next over Swoop picked up two bowled's off consecutive deliveries, and was on a hat-trick, but then bowled consecutive wides. Long Dong bought on Shitshoes at the other end to bowl his mystery spinners, and he extracted enough drift and turn to take an edge to Post-Op in the first over. In his next over the batsmen popped a ball to Swahili at point for a good catch – "someone's got to catch them here". Three bowled's followed as Shitshoes wrapped up the tail to finish with a fine five-fer. The SCA NForcers 78 all out at the end of the 18th over.
Shitshoes and Swahili headed back to the SRFC pavilion for one of the worst steak sandwiches ever and some cold refreshment. Out in the middle, things were tense for a while, as first Spanner was bowled for a golden duck, and then Dags was bowled while leaving the ball (later claiming vicious in-swing). However, Swoop and Tantric then put together a partnership of 60 runs that was the difference in the end. Tantric was out LBW with only 5 runs required. Swahili called Post-Op to finish with a boundary, and so he dispatched the ball over the fence at long-off to finish a dominant performance by the Pleasure and deliver a 7 wicket win.
Swoop led an epic fines session that was well underway when the Business boys arrived for their afternoon match up against the Hot Dogs. Pleasure stayed to give some support to the Business (and partake of liberal cold refreshments) before retiring to the Camel.
Bowling:
Shitshoes – 5/13 off 5 overs
Swoop – 2/20 off 4 overs
Batting:
Swoop – 33 not out
Tantric – 16