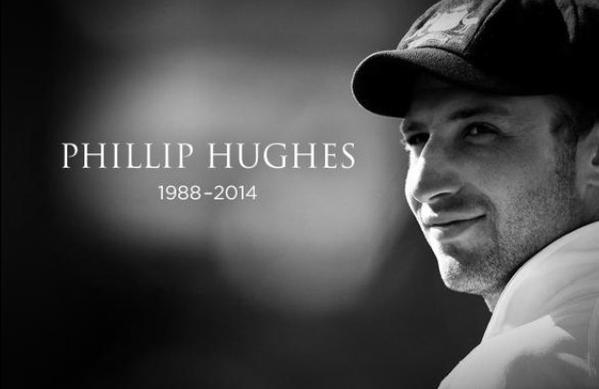 Australian Cricketer Phil Hughes died today, three days before turning 26.
I read this news while I was meant to be working on the Bashers awards presentation for this Saturday. If this years awards are a little lacking then I apologise, I was distracted and shaken by the news.
I didn't know Phil Hughes. I've never met Phil Hughes. I've never seen Phil Hughes play live. If I had got into a hotel lift with Phil Hughes, I probably wouldn't have known it. Why then was I so disturbed by this?
Perhaps it was the recognition of my own mortality. I haven't played cricket nearly as much as Phil has (despite being a couple of decades older) and certainly not against the same type of bowling as he did. But everything I've read tells me that this wasn't a cricket accident. This was a "freak" accident: that word has been written a lot today. It's the kind of thing which statistics just don't have an answer for. The point being that shit happens and could happen to any of us at any time.
I didn't know Phil Hughes but everything I've read suggests that he was a genuinely good bloke. Tributes didn't carry any burden of politeness, the nice things said were real. Phil Hughes could have been the kind of bloke to show up in Shanghai and join the 235 others to have enjoyed playing the game we all love with the Bashers. He would have sat with us and had a few beers. More, he would have stayed and become part of our family. He would have been most welcome.
Today I was sad.
But today I am grateful.
I am grateful that for a time the internet became a place where people said good things with genuine intentions. We all add our best wishes and thoughts to the Hughes family, the Australian  and world cricket family and Sean Abbott.
I am grateful that I am a Basher and a sometimes cricketer. I'm glad of the many of you I have for friends. Today I know why I have the tattoo on my thigh.