Words by mouse, photos by Tampon
Bleep bleep bleep….the alarm went off.
WTF, is it time to get up already? The answer, Yes!
Drawing the curtains with optimism it might be raining, our eyes were greeted with laser beams of SPF 150+ sunshine which promised the day would be f*ing hot.  "Crikey – I hope we field first so we can sit back, bat, and drink beer" were the first things that went through many a mind, and with that thought Bashers of Leisure hauled their arse out of bed to get ready for cricket.
So, off to the Camel we go. Mouse and Spanner arriving first (which is a first!) to take care of kit and cold beer, and with the best of intentions, pies (none of which were found although Tucker's bus had them!). We did, however, have the entertainment of 3 Irish lassies who had stumbled into the Camel circa 7am for their early morning rum & cokes pre church). Whilst we weren't able to recruit them on the spot, we were duly provided their Sunday morning blessings and, with that, were out the door!
Boarding the big bus, and assembling into beer drinking position, we started mental preparation for the day ahead. Nothing out of the ordinary except for the obvious indifferences of the Sharapoper's who were in some form of argument (she did not look happy!), and the questionable driving skills of the driver who had made a wrong turn and was in danger of driving the bus into a right hand brick wall – don't worry though, the simple answer to his cock up was to reverse into oncoming traffic to right his wrong. As mentioned, nothing out of the ordinary.
Hitting the gaojia, Captain Tampon decided it was time to rally the troops with some words of inspiration. His words, and tactics simple – "we'll win the toss, field and then sit back and drink beer". F*ck yeah… spirits lifted, 2nd beers were cracked and everyone felt great! Off to the ground we go.
Arriving to the ground with the field set, spirits lifted even higher. Yay! No need for morning laps dropping coloured cones, thus all attention turned to the toss! "Tampon – did we win the toss? Are we fielding first? Get on with it…"
Walking off to meet the doggies captain, head held high, our beloved skipper returned with his tail between his legs to inform us we were batting and therefore be branded a K!. "Parrot, Spanner, get your pads on"…FARK! We were going to have to bat first. So much for kicking back drinking beers….
And so our dynamic duo hit the field. Parrot to face the first ball, smack – 4! Game on…! With the heat rising quickly, so did our batting strategy. Gone was the idea of pushing singles, and onto the heavy hitting ASAFP. This proved alright for about 8 balls been Parrot was bowled for 5. Continuing at the crease Spanner slapped out 25, Scooby a valiant 12, Sharapova LBW for 0 (her mind must have been on other things), Paps 3, Pope 16 (he took his aggression out on the ball), Mouse 1, Splillage 2, Tampon 2, Skiddy 17 (classy) and Leppa 2 N.O.  Team total – 131. Extras the highest scorer!
Could we defend 131? Did we have it in us? Could Leppa possibly smoke any more?? So many of life's questions to answer…
To be honest, we'd half written ourselves off during our batting performance given a mid-order collapse and increase of temperature by 5 degrees, however, a few inspiring words from the skipper, a slap on the arse, and to the field we went.
Paps for the first over, off a 2 step run up…we would've clapped him in, however with an action so quick it was over in a second with the batsmen caught at backward short leg by Scobby. Doggies, 1/0 off 0.1 – look out!
It's amazing how a wicket can change everything! With spirits soaring higher than the ground temperature, Leisure rallied around their bowlers to speak of our invincibility and how we were going to cream on the doggies. Whoops, I meant cream them.
Paps continued to bowl like a metronome (although his first ball wicket was all that he would claim on that day) with Sharapova in support (no wickets, but a few wides).
Skiddy whipped them in claiming 2, whilst Mouse took a while to warm up, however claiming a much coveted wicket in his 4th.
Leppa….oh Leppa (Tampon wasn't sure about the Legend of Leppa, but now is) took a haul of 5 and banished the Doggies back to their Yulin kennels licking their cream, whist Scooby also rolled his arm over to bring the Leisure home for a Win!
Hats off to the team for an awesome performance with catches from Spanner, Scoobs, Paps, Skiddy, and a brilliant stumping from Parrot (who was sharing the role with Pope) , LBW's and overall team spirit winning the game.
Special mention to Charlie who was their on behalf of his father, and who also looks like he will be a cracking batsmen too. Also, hats off to Leppa who was simply living the dream. Word is that Woody might come out of retirement given the success of the Lepster.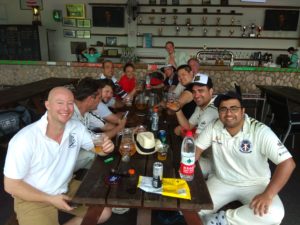 The winning team during fines. Note Leppa on phone…was so long since the last time he played, he had forgotten fine session rules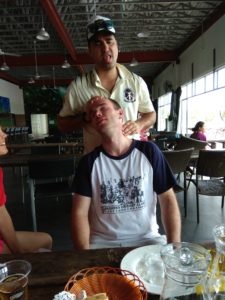 Pope enjoys a post match relaxing head massage from the Pres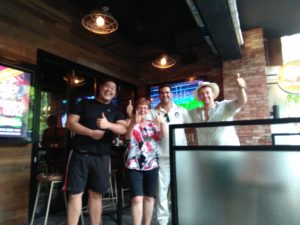 In the Camel, with a new Bashers supporter