The Leisure XI gathered, bleary-eyed, at The Camel for a match against Wellington early on Sunday 14th May. Pies and beers spread their way around the bus as the Bashers regaled stories from the previous evening. Bhenchod's attempt and failure to build cross-class relations with a resident of Hull and Rash's sleep in the park after being locked out were particular highlights. The bus journey flew by and after much hilarity, The Bashers arrived at SRFC eager for victory.
Captain Tampon failed in his two pre-game duties at the ground. Firstly, he laid out the boundary cones only for a member of the opposition, no doubt forewarned of our lusty six-hitting, to retreat said boundary a good 10 yards. Next, the all important toss where Tampon foolishly allowed the Wellington skipper to call correctly. Leisure were sent in to bat.
Facing the new cherry was debutant Cymbals (more on the naming later) and Paps who bravely defied doctor's orders to play. Oh how he should have listened to the medics, for first ball he was given LBW for a delivery that would have gone a good foot over the stumps. Paps dragged himself from the crease with a look of resentment etched on his face and spent the rest of the day chuntering about the decision to anyone that cared to listen. Cymbals opened his bashers account positively with a couple of flashing boundaries before being caught for 8.
With worries of another Basher collapse, Fruity and Korean steadied the ship and built a platform with nurdling and the odd touch of flair. Unfortunately, a sweep undid for our Kimchi-loving keeper and he was bowled for 4.
Pope strode to middle with a fierce look in his eye and together with Fruitbox they kept the scoreboard ticking over with high left elbows and wristy hands. A partnership was growing. However, a brain fade came with the pair doing their very best impression of BBC Radio 4's Just A Minute with a bit of "hesitation, repetition and deviation" while turning for a second run. Fruity had to depart for an anchoring 37.
This brought Bhenchod to the crease. A scrambled two here, a leg glance there and Leisure continued to build something defendable. As time progressed, the two men of Kent got their eye in with Pope sending the ball for two "Yes Bank" maximums over leg and Bhenchod putting that MCC coaching manual to good use with a lofted straight drive. The pair left the field unbeaten, with Pope on 43 and Bhenchod on 38. Leisure finishing with a competitive 168-4 off their 25 overs.
After some words from the captain which this author has forgotten, I'm sure they were inspirational, Leisure marched onto the field. The positions were set by Fruitbox as Tampon's leadership style is all about delegation, how very very modern.
Paps opened things up with a one stride run up for his bowling. It must be age. Fast it may not have been, but accurate it was. His maiden was backed up with some tight bowling from Rash and Leisure started creating pressure.
Rash's sleep in the park had clearly made him sparky. When passer-by's strayed onto the field he screamed expletives in English, Mandarin, Shanghainese and even Cantonese. This anger was also evident by some fast and aggressive bowling that Wellington could not score off. The Bashers had them rattled.
Sharapova came on at first change and bowled a good, quick over but strayed a little in her second. Fruity, clearly inspired by Paps, used the one step run up to good effect bowling some flighted off-breaks. With the run-rate soaring, pressure told for Wellington and their opening bat came down the wicket to Fruitbox and was stumped by Korean in a manner resembling Godzilla destroying the wicket-like buildings of Manhattan. Such was the force of his glovework, the stump was broken and so was the batsman's stay at the crease.
After drinks, Bhenchod and Fruitbox maintained pressure creating chances but Leisure did their very best to keep it an even contest with 10 dropped catches. A particular highlight was a skier that went towards our opening batsman who attempted to catch like a musician smashing together a pair of cymbals. The name stuck and the ball was grassed.
With a wicket needed, Tampon turned to Windy who, in front of his parents that arrived a mere two and a half hours late (runs in the family), sent the stumps cartwheeling of the dangerous Wellington number 3.
The result was still in the balance by the 22nd over when Messi came onto bowl. A four first up had some worried, but the man from Southend, home of the UK's longest pier don't you know, bowled five expert dot balls to all but seal the Leisure win. The Wellington opener eventually left the field after scoring a 50 but it was not enough. Rash and Paps came back on to finish the game and Leisure secured the first win for the club in 2017 by 7 runs.
With the victory, Leisure "busted" a few cricketing clichés:
Winning the toss – not required.
Solid opening partnership – unnecessary.
Good running between the wickets – overrated.
Tactically astute captaincy – delegation is better.
Take more wickets than the opposition – no, take less.
Catches win matches – they do not, drops win matches.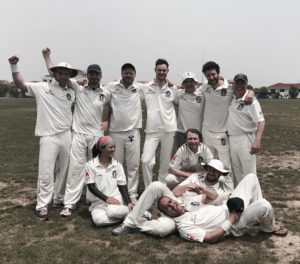 A boozy fines session followed in the sun, on the bus and in The Camel. Basher number 304, Cymbals, was christened with box-full of amber nectar (although most of it went down his shirt). One un-named member of the side then got rather overexcited by the victory and sent a picture to the WeChat group that they probably shouldn't have done. Nobody can un-see that image. This author is scarred for life. It was, however, a glorious victory with all 11 players contributing to the win on the hallowed turf of Shanghai Rugby Football Club.
Winston Churchill once said, "Before Alamein we never had a victory. After Alamein we never had a defeat".
Sunday 14th May 2017 will go down as our Alamein and Tampon will go down as our Monty.