This is an oppertunity to show our love and support to one of our great sponsors and be part of sporting history.
This rivaly dates back 100 years and embodies the sporting history of Shanghai.
In the morning there is a cricket match with many Bashers past and present taking to the field in both playing and umpiring rolls.
It would be great to get as many Bashers out there to support the Swire team for what will be a great day of Sport.
Depending on numbers we will put on a bus leaving from the Camel at 08:15. this bus will be coming back into town after the cricket and well in time for the activities the Social director has planned for the afternoon.
There is live entertainment at the ground as well as all the activities for the kids so this one is for all the family.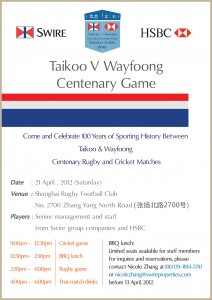 Please post below if you are going to make it for this